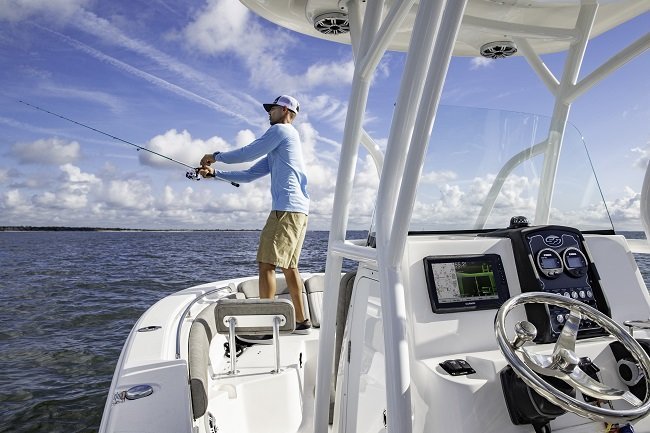 Garmin is an American-Swiss company founded in 1989 and headquartered in Olathe, Kansas and Schaffhausen, Switzerland. The company produces navigation devices for road, sports, outdoor, marine and air in Taiwan and the USA. The European headquarters is located in England, Garmin Germany in Garching near Munich.
The water sports sector has a long tradition at Garmin. The range of navigation devices with and without fish finders is correspondingly large. The manufacturer covers the needs and wishes of us anglers and recreational captains with three product lines.
Whether GARMIN does something special in one way or another and whether its device design can stand out from the competition or is standard for the class, we would like to explain in more detail below.
1. The philosophy of Garmin as a manufacturer
In this chapter, we will look at what sets Garmin (and its fish finders) apart and differentiates them from the other depth sounder manufacturers.
First of all, Garmin's organizational structure is customer-centric. Garmin Germany is strongly positioned in service, technology, product presence and product development. A German-speaking contact person and service employee can be reached at any time. This also means short distances for the specialized trade (and thus for the customer) in the event of possible device problems. The structure is similar in many other European countries.
Garmin devices are robust, less susceptible to faults and therefore durable (a fact that we also confirm in our fish finder test). This is also emphasized again and again in the relevant forums. Another indication of this is the price structure of used Garmin devices, even those that are a bit older.
The manufacturer promotes customer contact and equipment management with specially developed apps (Active Captain), programs (Base Camp, Express, Homeport, MapInstall), online offers (chart updates) and user scripts to supplement its equipment manuals.
Garmin manufactures fish finders and combination devices with chart plotters in its own production facilities. The device software and the nautical charts with worldwide coverage are also in-house developments. In some cases, extended know-how is also purchased, as most recently with Navionics (2018).
2. Which fish finder series are in the program at Garmin?
Garmin pursues three independent product lines, each tailored to a specific target group:
In the lower price range, this is the Garmin Striker Plus family (such as the Garmin Striker 5 DV DownVü, CHIRP & GPS): This is aimed at the price-conscious customer, but who does not want to do without the latest technology and good equipment.
With the Echomap UHD and Ultra series, first-class technology and extensive features are offered in the medium price range.
The GPSMAP team (such as the Garmin GPSMAP 722xs) is addressed to prospective customers who demand top performance and require full integration into a marine network.In terms of price, there are no upper limits, but you can start at the €800.00 mark (without transducer, of course).
3. What characterizes the Garmin fish finders?
Customers choose a Garmin device for fish finder fishing for different reasons. On the one hand, as a GPS specialist, the manufacturer always delivers a first-class chartplotter. Although it only processes the company's own Bluechart sea charts, they are undisputedly among the best available. In the Bluechart Vision version, they have unique features with FishEye and MarinerEye views that are reserved for Garmin nautical charts only. With QuickDraw™ Contours, Garmin fishfinders integrate a mapping system for anyone to plot their own charts in real time.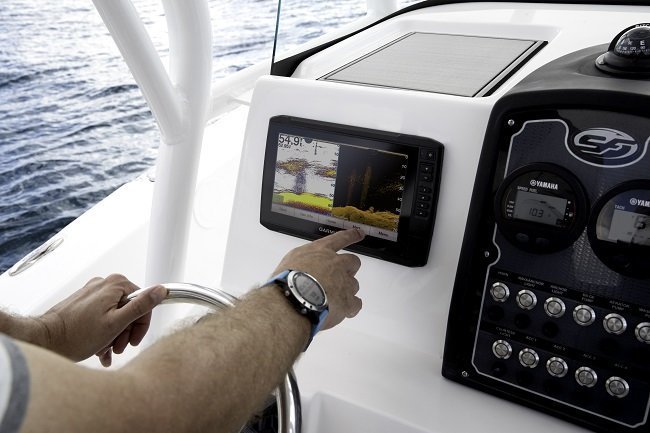 The manufacturer's extensive range of transducers is unique, covering all needs for water-specific adaptations. In addition to a large number of Garmin's own transducer developments, many Garmin devices are also Airmar-compatible. Responsible for the development of the multi-sensor range is, among other things, the multi-frequency fish finder procedure (CHIRP), which has been and continues to be consistently developed and expanded by the manufacturer.
The 2D chirp method on Garmin devices is among the best on the market. The customized chirp transducers account for about 50% of the total transducer offering. In addition to the excellent 2D chirp, the manufacturer has also been developing real-time sonar imaging in recent years. Livescope and Panoptix provide strong real-time images around the boat. Garmin is currently the leader in these techniques. With the new UHD and Ultra devices, the manufacturer now even chirps in high-resolution frequency ranges.
Garmin stands out from the competition through:
– Large transducer variety (including real chirp transducers),
– 2D chirp images of the finest,
– fish finder technology in real time and 3D
– as well as high-resolution fish finder technology ClearVü and SideVü
4. Overview of the Garmin fishfinder series
In the following 3 chapters we will take a closer look at the three main series (Striker Plus, Echomap UHD + Ultra Series and GPSMAP) with all their characteristics and technical peculiarities, so that you can find the right depth sounder for you.
4.1 Garmin Striker Plus Series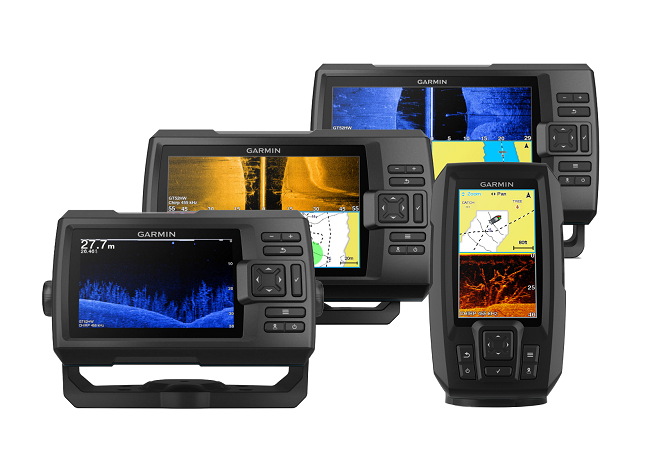 With the devices of the Garmin Striker series, you can enter the world of fish finders at a reasonable price – without having to do without modern technology. Regardless of model and screen size, all devices are equipped with 2D-Chirp and ClearVü (downscan). Recognizable by the abbreviation "CV" in the model name. The SV models (from 7 inches) also have a SideVü (sidescan) function. Common to all members of the Striker family is also the integrated QuickDraw Contours, as well as a built-in GPS. QuickDraw makes it easy to create your own waterway maps, while the GPS allows you to create waypoint maps and navigate to specified positions.
All Striker models are also Wi-Fi enabled and can communicate with the outside world via the ActiveCaptain app. However, not all functions of the app can be used with a Garmin Striker. The representatives of this series also lack a chart plotter or an SD card slot. This limits the possibilities for use somewhat, of course. In return, however, the possible transducer selection is extremely appealing. From the dual-frequency transducer 77/200 or 50/200 kHz to the chirp transducer GT52, the selection is large. Depending on the transducer type, adapters may be necessary for connection.
Overview of the different Striker Plus models:
| Features and functions | Striker Plus 4cv | Striker Plus 5cv | Striker Plus 7cv | Striker Plus 7sv | Striker Plus 9cv | Striker Plus 9sv |
| --- | --- | --- | --- | --- | --- | --- |
| Screen resolution | 272/480 | 800/480 | 800/480 | 800/480 | 800/480 | 800/480 |
| Screen size in inches | 4,3 | 5 | 7 | 7 | 9 | 9 |
| GPS | X | X | X | X | X | X |
| SD card slot | – | – | – | – | – | – |
| Chartplotter | – | – | – | – | – | – |
| 2D Chirp High/Middle | X | X | X | X | X | X |
| ClearVü | X | X | X | X | X | X |
| SideVü | – | – | – | X | – | X |
| QuickDraw Contours | X | X | X | X | X | X |
| WLAN | X | X | X | X | X | X |
| Compatible with ActiveCaptain-App | X | X | X | X | X | X |
| 2-Frequency-Transducer | X | X | X | X | X | X |
| CV-Chirp-Transducer | X | X | X | X | X | X |
| SV-Chirp-Transducer | – | – | – | X | – | X |
| Transmitting power RMS | 300W | 500W | 500W | 500W | 500W | 500W |
| Network capability | – | – | – | – | – | – |
| Keyboard operation | X | X | X | X | X | X |
| Touchscreen | – | – | – | – | – | – |
| Surface- / flush-mounting | x/- | x/x | x/x | x/x | x/x | x/x |
Conclusion: At prices ranging from €200.00 (Striker Plus 4cv with GT20 transducer) to €590.00 (Striker Plus 9sv with GT52 transducer), you get excellent value in equipment, technology and flexibility. The missing chart plotter is less important in freshwater than in saltwater. The "GPS only" solution is a viable compromise, as it at least allows white-card waypoint navigation. In addition, the range of use of the devices can be optimized according to the type of water – with the right transducer.
4.2 Garmin Echomap UHD and Echomap Ultra Series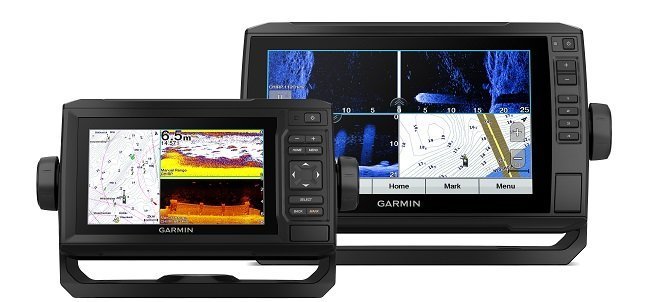 Garmin has neatly revised the previous Echomap Plus series. Only the Echomap Plus 4cv as the counterpart to the Striker 4cv has not changed its name. The new model designation with UHD applies to all devices from 6 to 9 inches. At 10 inches, the Echomap Ultra series starts, which among other things has a slimmed-down livescope real-time system integrated. In terms of price, the Echomap UHD series starts where the Striker Plus model line ends. Only the 6-inch entry-level Echomap UHD 62cv is less expensive – and can't deny the optical proximity to the Striker models either.
Technically, the differences between the two product lines in the echo sounder-only range up to 9 inches are not that great. If you want, you could look at the Striker Plus series as a cutback down-size of the Echomap family. Conversely, if you take a say 7-inch Striker, add a plotter and SD card slot, upgrade all components a bit in terms of quality and functionality, we're right in the middle of the Echomap family.
We are glad about
a better screen,

the professional screw connections on the back,

the sophisticated device mounting,

the high-quality case,

the touchscreen operation with keyboard support,

the small network connection (NMEA),

as well as the beefed-up processing speed (hardware upgrade).

Of course, the chart plotter and high-sensitivity GPS are also pleasing additions.
In the fish finder range we find what is possible in the Striker Plus series. In the 2D range, the low chirp option has been added to expand the frequency spectrum. Otherwise, the Echomap devices have become partly ultra-high resolution as well as real-time compatible. A corresponding connection for Livescope is available. Starting from a 10-inch screen size, Garmin has already integrated livescope functions with the Echomap Ultra devices for use without a black box (with the LV12 transducer).
Overview of the different Echomap UHD and Echomap Ultra models:
| Features and functions | Echomap UHD 62cv | Echomap UHD 72cv | Echomap UHD 72sv | Echomap UHD 92sv | Echomap Ultra 102sv | Echomap Ultra 122sv |
| --- | --- | --- | --- | --- | --- | --- |
| Screen resolution | 800/480 | 800/480 | 800/480 | 800/480 | 800/480 | 800/480 |
| Screen size in inches | 6 | 7 | 7 | 9 | 10 | 12 |
| GPS | X | X | X | X | X | X |
| SD card slot | 1 | 1 | 1 | 1 | 2 | 2 |
| Chartplotter | X | X | X | X | X | X |
| 2D Chirp High/Middle/Low | X | X | X | X | X | X |
| ClearVü | X | X | X | X | X | X |
| ClearVü UHD | X | X | X | X | X | X |
| SideVü | – | – | X | X | X | X |
| SideVü UHD | – | – | X | X | X | X |
| QuickDraw Contours | X | X | X | X | X | X |
| WLAN | X | X | X | X | X | X |
| Compatible with ActiveCaptain-App | X | X | X | X | X | X |
| 2 frequency transducer | X | X | X | X | X | X |
| CV-Chirp transducer | X | X | X | X | X | X |
| SV-Chirp transducer | – | – | X | X | X | X |
| UHD transducer GT54 | – | – | X | X | X | X |
| Transmitting power RMS | 500W | 500W | 500W | 500W | 600W | 600W |
| Network capability NMEA | X | X | X | X | X | X |
| Livescope integrated | – | – | – | – | X | X |
| Network Panoptix | – | – | X | X | X | X |
| Fully marine network capable | – | – | – | – | X | X |
| Touchscreen | – | X | X | X | X | X |
| Keyboard operation | X | Zus. | Zus. | Zus. | Zus. | Zus. |
| All Panoptix options | – | – | – | – | X | X |
| Surface- / flush-mounting | x/x | x/x | x/x | x/x | x/x | x/x |
Conclusion: The Garmin Echomap series has it all. Starting with the standard 4cv and 62cv models with 2D chirp and ClearVü (downscan), up to the flagships of the Ultra series, the prices range from 500€ (Echomap 62cv) to above 3000€ (Echomap Ultra 122sv). Of course, the screen size and the range of features essentially determine the price. The two Ultras are equipped with everything that is desirable in terms of echo sounding from high resolution to real time, but are priced at the same level as the 10-inch devices of the GPSMAP class. All UHD-SV devices from 7 inches can also chirp high-resolution and thus belong to the most attractive offers of the fishfinder market with their complete equipment in the middle price range up to 2000 € (including transmitter).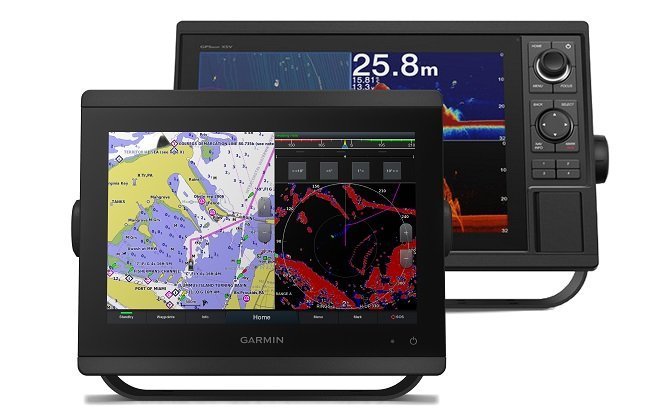 One thing in advance: Within the GPSMAP series, different model series are offered, which essentially do not differ much in terms of sonar technology. Sonar functions are built in depending on the model (XSV indicator) or can be supplied via an external black box in the case of pure plotter devices. As for the echo sounder methods used, we meet again everything that has already been discussed. So there is no innovative increase to the Echomap series in this area.
The differences are the transmit power of 1 KW and the full marine network capability. This allows
interconnected operation with other devices (radar, camera, wind and weather measurement, etc.),

the complete system monitoring (e.g. of the motor),

as well as the plotter and depth sounder equipment with various devices and transducers.
The high system performance is ensured by extended hardware equipment (CPU, memory). Workmanship and materials used meet high standards, and the IPS screen quality in the high-end devices also meets the demanded prices.
Likewise, the operating options with touchscreen or keyboard (depending on the model series) meet the demands of the professional class. The GPSMap devices (84xx series) can be used by anyone who has the highest demands on technology and quality – and also brings a well-filled "petty cash". But he can also enter the GPMAP consumer classes, which offer high quality at a more moderate price. By the way: Due to the high transmitting power of 1 KW, correspondingly strong transducers of the 1-2 KW class can also be operated and deep-sea images can be brought up from more than 1000 m, if one needs them.
Overview of the different GPSMAP models:
High-end devices
4.3.1 GPSMAP 8410 – 8424
With these devices you get a screen of size 10 to 24 inches with integrated chart plotter and all marine network functions including online access. A fish finder can be connected via a black box and is therefore not part of the purchase price (just like the transducer). However, the unit can act as a sonar via the network if there is already a compatible unit and transducer on the network. The prices for the plotter are between 2800 and 15000€.
4.3.2 4.32 GPSMAP 8410xsv – 8416xsv
Here the same device as just described is offered, only with built-in fish finder of the UHD class. The prices range from 2900 – 5600€. Why the integrated version is slightly cheaper than the pure plotter version is not explainable at first glance.
Consumer devices
4.3.3 GPSMAP 10×2 and 12×2
10 and 12 inch units with plotter and full depth finder equipment (Chirp, ClearVü, SideVü). Panoptix support, connection for an fish finder premium black box and of course full marine network support. The units are operated completely via a keyboard with joystick (as an alternative also via a touchscreen). Prices from 1800 – 2400€ without transducer.
4.3.4 GPSMAP 722xsc – 1222xsv
Three technically very similar units with touchscreen in 7-inch, 9-inch and 12-inch versions. Plotter and Chirp/ClearVü fish finder (the 1222xsv model additionally with sidescan) integrated, marine network and Panoptix support. Prices from 800 – 2600€.
Conclusion: The GPSMAP model series are somewhat confusing. It is not clear why several consumer series are offered in parallel, but they only have minor differences. However, one thing is certain: As a buyer, you get high quality materials and components, full network integration, Panoptix access and a comprehensive depth sounder with high transmission power. With the large transducer selection, including some ocean-going types, you are well positioned for any application.
5. Conclusion Garmin fish finders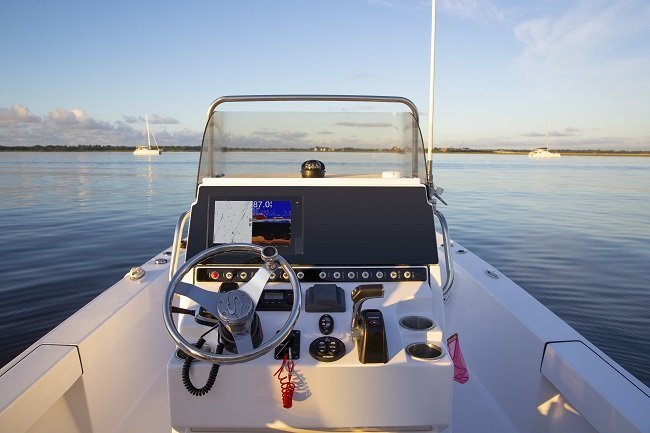 Everyone will find what they are looking for on the Garmin shelf. It doesn't matter if you have a smaller budget and thus lower demands – or if you expect top performance in terms of technology, features and quality. As already mentioned, the following should be highlighted
the immense transducer selection across all model lines,
the excellent 2D chirp performance,
and the innovation in real-time sonar from the Panoptix system.
All other functions such as ClearVü, SideVü, plotter and GPS also meet upscale demands. The same applies to the ingeniously simple QuickDraw contours mapping procedure and the ActiveCaptain app in online mode. The price-performance ratio is convincing in all three series. However, the lack of a chart plotter in the 7- and 9-inch Striker models is a big minus point – the competition in this price range has already upgraded accordingly.
Read more Garmin fish finder tests here:
This brings us to the end of our detailed test-review of the Garmin fish finders and chartplotters. If you have any questions, additions or comments, please let us know – we are looking forward to your feedback – or have a look at the other fish finder reviews in our extensive fish finder test (including the newest sonar models of all important fish finder manufacturers like Garmin, Lowrance, Humminbird or Raymarine). Have fun on your next angling trip and "Petri Heil" – Jens and Martin.