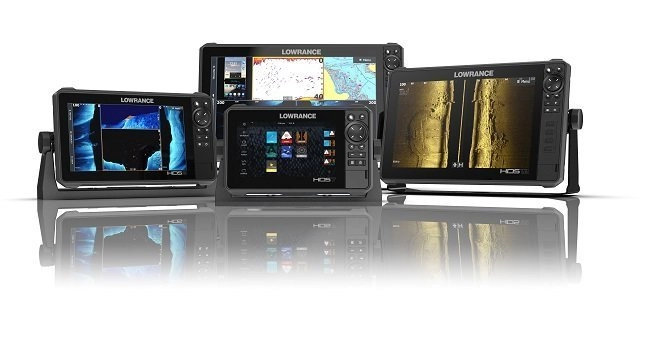 With the introduction of the new HDS Live series, the top models in the Lowrance range, the manufacturer has opened a new chapter in the development of the HDS series, which was first added to the portfolio in early 2009. The HDS Live series, with units in 7,9,12 and 16 inches, marks possibilities, but also current limits, in the development of modern marine electronics.
If you want to describe the performance of the HDS Live series and look for reasons why fishing professionals prefer to use Lowrance among all fish finder manufacturers, it is best to start with the previous leader HDS Carbon, which already brought a number of innovations (e.g. Structure-Scan 3D).
So you take an HDS Carbon, add a bunch of exciting new features and real-time (live) fishfinder capabilities, and you get a unit upgrade that has enthusiasm potential.
In the following, we will take a closer look at why the inner values of the HDS Live series have a lot of exciting things to offer. Let's first concentrate on the possibilities in the Structure-Scan area, which includes the down- and sidescan process, and see what has been done there.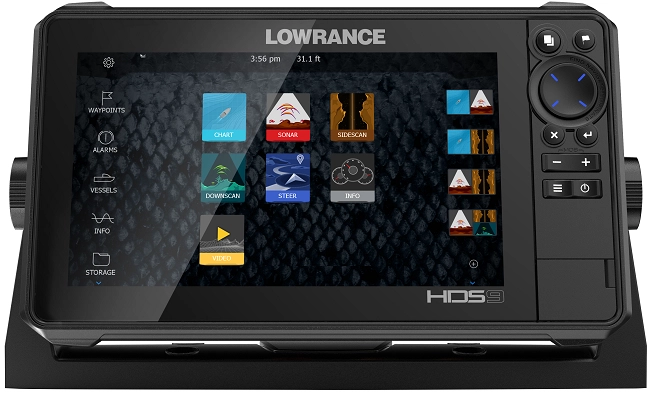 With the HDS Live series (+ Elite Ti²), the manufacturer has introduced Active-Imaging, an fish finder technology that brings significant improvements in the detail reproduction and range of the signals in the structure scan area.
With two new Active-Imaging transducers on the hardware side, the previous imaging capabilities are redefined. You can now see more details at a greater depth range than before. The largest transmission frequency of 800Khz has been left untouched and has not gone into the mega-image range (1200 Khz), as the competition has done.
Nevertheless, comparable results are achieved. This may be due to the transducer design (separate ceramic array for transmitting and receiving), but will also be achieved with the new software control. The 3-in-1 Active-Imaging transducer (with 2D chirp, down- and sidescan) can deliver bottom gradients and structures, but also fish, in a display quality that puts all previous images created with HDS Carbon and the Totalscan transducer in the shade.
The clarity and resolution of the scans visibly surpass previous results. As an option, a 3D transducer can be used in addition to the Active-Imaging transducer, which can display ground structures and details even better with a lower noise level and cleanly defined height stratification.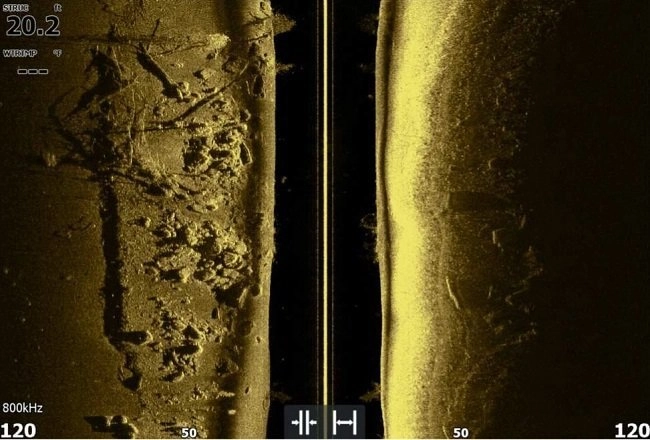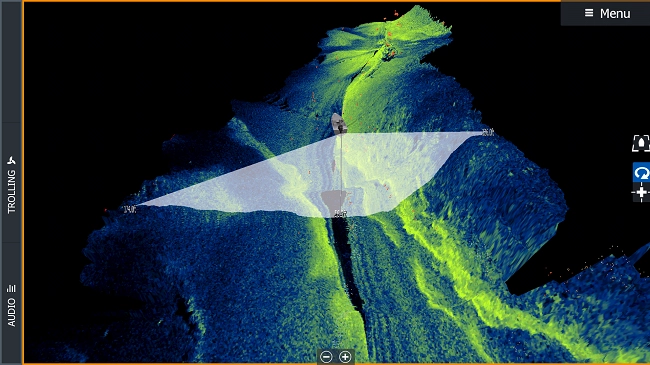 Structure-Scan, multisplit und hardware
HDS Live removes the restrictions of being able to display only two views (down- and sidescan) in parallel on the screen. Now, six-splitting is possible when fishing with a sonar, whereby the 3D side can also be displayed simultaneously in addition to the down- and sidescan in the structure scan procedure.
The 12- and 16-inch models can display six images in parallel in the maximum screen split. With a 7- or 9-incher it is four. An excellent Solar-Max HD display, certainly one of the best on the market, then does the rest to bring all the desired information to the man or woman.
In order to realize multi-view displays without delays, the hardware must also be of high quality, which Lowrance ensures with a quad-core processor and sufficiently large RAM in the 12 and 16-inch HDS Live models. However, the dual-core CPUs are not bad for the two small 7- and 9-inch devices.
The introduction of the FishReveal feature (18.1 upgrade) in early 2019 has made the competition sit up and take notice, and for good reason. This function combines the possibilities of high-resolution downscan in the display of structures, with the clearly defined fish arches of the conventional 2D chirp process.
HDS Live filters out the weak sonar signals during compilation and highlights the strong signals, giving you a clear, clean representation of the fish population present via the downscan details. To put it another way, the best of two fish finder worlds is combined on the screen.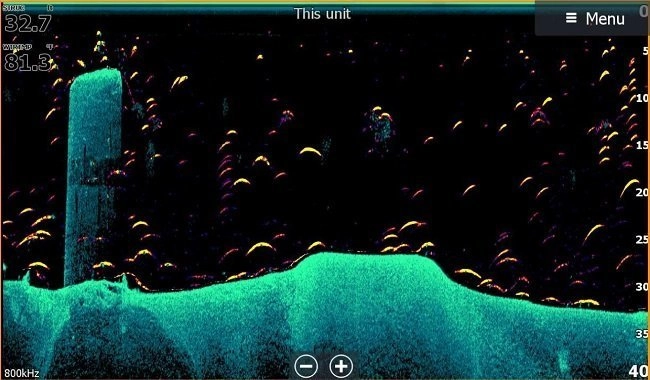 It is well known that common fish finder images are not real-time images, but rather show the space already traversed by the boat. In a current situation, however, not always helpful.
On the other hand, there is LiveSight, i.e. the possibility to display on the depth finder screen the underwater world as it appears or changes at the moment under and around the boat (LiveSight Down).
But LiveSight can do even more, it can also see ahead (LiveSight Forward) and give an idea of what is moving towards or away from the boat.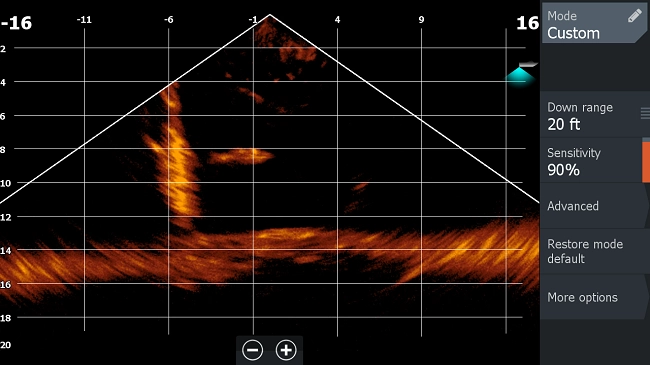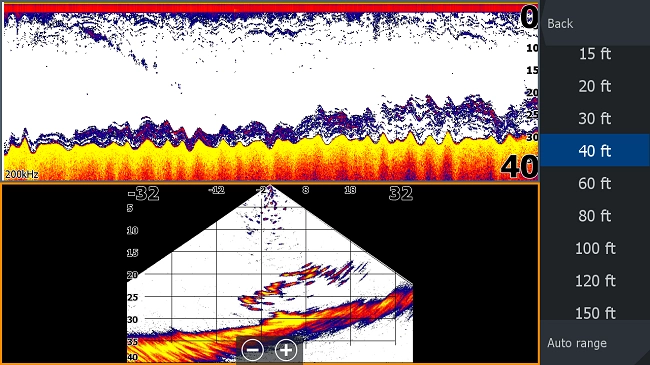 How valuable it is to be able to locate the fish precisely and up to date, to follow its reactions and what possibilities this opens up for vertical fishing, for example, is immediately apparent.
Unfortunately, a separate transducer must be purchased for the LiveSight, which can be mounted with the view down or forward. It connects directly to the HDS Live unit and does not require any other accessories.
The LiveSight transducer also provides a traditional sonar view, so when used in conjunction with the real-time sonar, it provides a great tool for the HDS Live. The LiveSight transducer also works with HDS Carbon and the Simrad NSS EVO3 units, but requires a black box.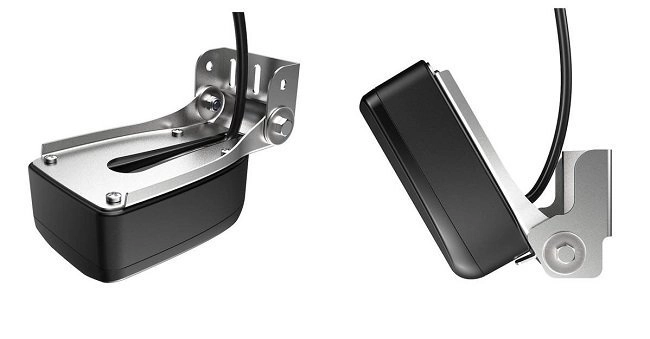 2D Dual Chirp Active-Imaging
The traditional fish finder method 2D with Chirp was never a showpiece in the Lowrance fish finders, like the Structure Scan methods, which more or less come from the Lowrance development. The reason for the not so optimized 2D displays were mostly the transducers that modulated Chirp with fixed frequency ceramic via the software.
Even the introduced TotalScan transducer, which was already improved compared to the HDI models, was not convincing in this respect. The Active-Imaging models have also improved in this area.
Sharpness and contrast of the chirp images are very good. The optimized object separation and a clean structure display are quite convincing compared to the competition. Even if the results cannot quite keep up with the scans of an Airmar TM150 yet.
A minor shortcoming that is still present in the Elite Ti² models is also a thing of the past in the newer HDS models. This refers to the use of chirp in 2D with simultaneous display of the structure scan processes.
Until now, Chirp was automatically switched to fixed frequency in parallel operation. This has also been changed in the lower price range (Hook-Reveal) in the meantime (except for the Elite series), so that Chirp can be used in split mode without restrictions. The HDS Live even has a dual-channel function. Here, chirp scans from two different transmitters (e.g. via the marine network) can be used in parallel.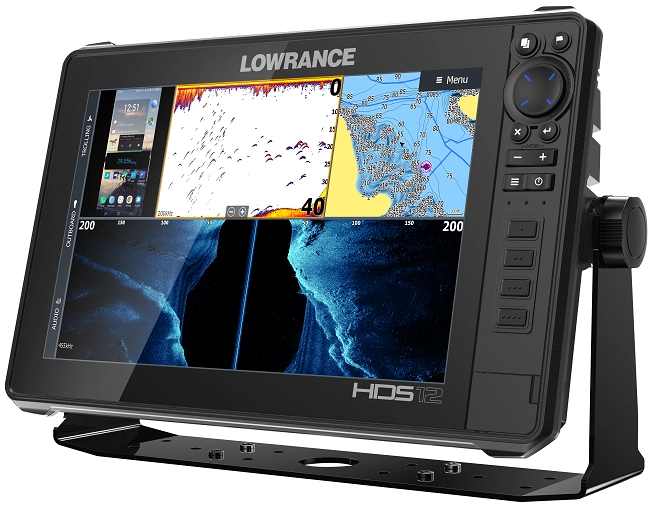 Chartplotter, GPS, marine network, etc.
An HDS Live device is fully marine network capable, as is common in this price range – and even in LIVE mode. Live means a full real-time integration of the device into all existing extension in the network like
Radar,

Camera systems,

Fish finder functions,

Media products,

Technology monitoring, etc..
This allows all functions to be used, e.g. from multiple transducers, even if they are connected elsewhere. A new feature of the HDS Live is smartphone integration based on Android or iOS (LiveCast™, 12- and 16-inch models ONLY), meaning texts and calls appear on the HDS Live device and can be read and edited there.
Also new is the integration of C-MAP Genesis live mapping to create maps of individual waters. Only an empty SD card is needed for recording.
With a high-sensitivity GPS module that polls the current position 10x/sec, the HDS Live establishes navigation readiness immediately and runs absolutely stable even under changing reciving conditions. The integrated chartplotter has everything and can do everything that is desirable for safe navigation and successful hotspot search.
C-Map and Navionics water charts are compatible. Their optional use extends the chartplotter's capabilities, e.g. with automatic route guidance via Easy-Routing (C-Map) or Auto-Routing (Navionics).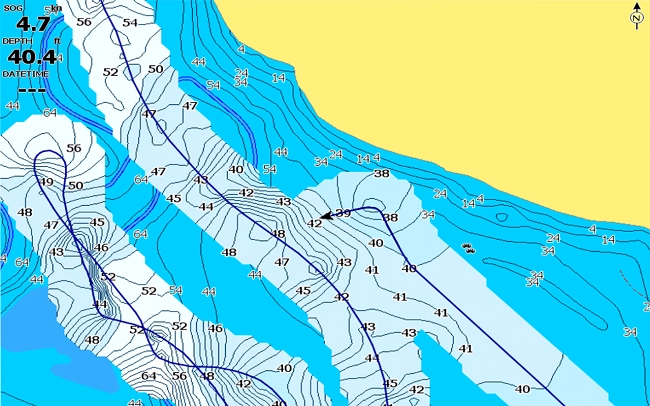 Existing nautical charts, e.g. from Navionics, can also be revised during operation with Navionics Live. For this purpose, the scan data of the sonar are integrated into the existing chart. Furthermore, a temperature overlay is also possible in order to make temperature zones visible that favor a quick location of successful fishing spots.
HDS Live can communicate wirelessly via Wlan and Bluetooth. Map and software updates can be installed without complications, as well as the coupling of tablets or notebooks in the fish finder operation.
Model differences 7/9 inch to 12/16 inch
As is so often the case in a product family, the larger models in the range have more advanced equipment and / or additional features. For the HDS Live devices it is
the hardware equipment with Quad Core CPU in the 12/16-inch types.

We also find programmable function keys on the operator side and more connectivity options on the back.
Otherwise, the models are largely comparable in terms of technology and features except for the differences in screen size.
The following table provides a detailed overview of similarities and differences.
Lowrance HDS Live: models equipment and compatibility
– not available,

x present

and o compatible.
Features
HDS
LIVE 7   
HDS
LIVE 9   
 HDS
LIVE 12   
HDS
LIVE 16
 
 
 
 
 
Solar-Max-HD-Display
x
x
x
x
6-fold split screen
–
–
x
x
Touchscreen MultiTouch
x
x
x
x
Additional key function
x
x
x
x
Additional quick access keys
–
–
x
x
 
 
 
 
 
Live Marine Network
x
x
x
x
Live Network Sonar
x
x
x
x
LiveCast™
–
–
x
x
HDMI-, USB-port
–
–
x
x
Wlan, Bluetooth
x
x
x
x
Smartphone integration
–
–
x
x
Quad Core CPU
–
–
x
x
Dual Core CPU
x
x
–
–
 
 
 
 
 
Active-Imaging
x
x
x
x
Active-Imaging transducer 3-in-1
o
o
o
o
Active-Imaging transducer 2-in-1
o
o
o
o
Airmar transducer
o
o
o
o
 
 
 
 
 
Downscan 800/455 Khz
x
x
x
x
Sidescan 800/455Khz
x
x
x
x
LiveSight real-time sonar
x
x
x
x
Structure-Scan-3D-AI
x
x
x
x
Chirp traditional 2D
x
x
x
x
2-channel chirp integrated
x
x
x
x
 
 
 
 
 
Chartplotter integrated
x
x
x
x
GPS 10 Hz
x
x
x
x
C-Map, Navionics nautical charts
o
o
o
o
Live-Mapping
x
x
x
x
SD card slot 2-fold
x
x
x
x
Who needs which device from the HDS-Live family?
If you want to enter Lowrance's HDS-Live upper class, you can do so with the 7-inch model and the Active-Imaging transducer 3-in-1 at a moderate price of around 1300.00€.
Then the user can call an optimally equipped fishfinder his own, which reflects the state of development and the performance range of fish finder technology. He must know, however, that not all functions that are available can be used. This is because both real-time and Structure-Scan-3D require additional investments beforehand.
At first glance, it may sound strange to purchase a device whose possibilities are limited. However, it also makes sense in this configuration, because you acquire a high-quality device that is absolutely competitive with the mentioned transducer in this price range and that in the very best structure scan quality and range of features, which you will not find in one or the other comparison model.
In this respect, the HDS Live 7 with the Active-Image transducer can be recommended to any angler who wants to
has high quality requirements,

uses its fish finder in a portable way,

installed on a small boat or 

additionally needed for its naval network.
Of course, screen splits of three or more are better on a 9-inch model because details can be displayed more conspicuously on a larger surface. For this reason alone, you should rather go for the 9-incher in case of doubt, even though the additional price of around 700€, just for a bigger screen, is a financial hurdle.
Nevertheless, the 9-incher is worth considering since its display area feels about twice as big as that of its smaller brother. Of course, the two larger models are the non-plus-ultra:
With all-encompassing display options in the 6-split screen,

the better hardware equipment and

the advanced operating options.
In this price range, you will be able to exhaust all the possibilities and innovations of the device with the optional network integration and a multi-transducer configuration.
For the discerning fisherman, a 12- or 16-inch HDS in the combination of Active-Imaging and LiveSight transducer is also a real highlight as a stand-alone device on the boat, which will definitely redefine his previous fishing life.
Advantages and disadvantages, as well as the recommendations for each model variants.
HDS Live 7 inch with Active-Imaging transducer 3-in-1
Advantages:
Wide range of services with three echolocation methods (2D chirp, side scan and down scan),

Structure-Scan-3D (transducer optional),

LiveSight real-time sonar (transducer optional)

FishReveal,

outstanding Solar Max HD display,

Marine Network,

Wifi,

Bluetooth and

a favorable entry price.
Disadvantages:
Relatively small screen.

Use of the 3D and LiveSight options are linked to additional donors, which result in high additional costs.

Best quality 2D chirp requires Airmar transducer
Result:
In the upper class of Lowrance you can enter with the HDS Live 7 and the very good Active-Imaging transducer (3-in-1) already for about 1300€. You get a high-quality device with full equipment.
In this configuration, the basic fish finder techniques (2D chirp, side and downscan) can be used. With
FishReveal,

a functional MultiTouch screen and button support,

a top chartplotter and

the live mapping functions
you are well equipped for many occasions.
Due to its compactness, the 7-inch model is just as suitable for portable use as it is for installation on smaller boats, as a second device in the network and of course on larger units.
HDS Live 9 inch with Active-Imaging transducer 3-in-1
Advantages:
The 9-inch model has all the advantages listed for the 7 series, since both devices are technically identical except for the size. Compared to the 7-inch model, however, there is significantly more screen space available, which makes working much more comfortable. Details can be identified more easily when the screen is divided, which increases the device's utility value considerably.
Disadvantages:
Additional costs for possibly necessary transducers (3D, LiveSight). The purchase price of around 2000€ is within the usual range. Compared to the 7-inch device, however, the somewhat steep additional price for the larger 9-inch screen is not completely negligible.
Result:
As a stand-alone unit, the 9-inch version of the HDS 9 Live is the angler's choice because sonar information, especially when split-screen, is much easier and safer to access than on a smaller 7-inch unit.
Nevertheless, a 9-inch model is still relatively compact and easy to handle even in portable operation. This is also an argument for boat owners who do not want to leave a sonar unit on the boat when moored.
Newcomers with higher quality demands and experienced users, even those who occasionally travel on rental boats, will reach for this 9 inch HDS Live model.
By the way – we also present the HDS Live 9 in our detailed fish finder review 2021.
Lowrance HDS Live 12 inch
Advantages:
The 12-inch model is technically similar to the smaller family members in the areas already described. Besides the 12-inch screen, however, the model is equipped with
additional interfaces (HDMI, USB),

four assignable access keys

as well as an extended split option (6-split) of the display.

Added to this is the powerful hardware equipment with quad-core processor and

the new LiveCast™ (Android and iOS devices), which allows smartphones to be easily integrated.
Via the HDMI interface, mobile devices can be used on the fish finder in best image quality, e.g. to make video streams or Google Earth visible. Full screen modes as well as partial windows are possible.
Text messages or call information from the smartphone can still be displayed via Bluetooth if desired In a comparison of screen sizes, the 12-inch model with around 400 cm² (9-inch 220 cm²) and an HD resolution of 1280×800 pixels can play out all the advantages of an optimal display size.
Disadvantages:
With a quite reasonable purchase price of about 3300.00 €, you can also use the interesting fish finder functions (3D, LiveSight) with this model only if additional suitable transducers are purchased.
Result:
A great state-of-the-art device with a large 12-inch screen. If you don't mind the expense, this model is a stand-alone or network player that meets the highest demands and equips boating users from bass boats to cabin cruisers with marine-optimized features.
Lowrance HDS Live 16 inch
Advantages:
Huge screen in Full HD resolution (1280×1080) with a screen area of about 700 cm², which is again about 75% larger than the 12-inch model. Otherwise, we find all the advantages of the 12-inch device as described there.
Disadvantages:
With a base price of around 4450.00€, you also have to consider additional costs for further transducers.
Result:
The non plus ultra of a high quality and fully equipped sonar unit with all current possibilities of marine technical equipment in this field. An ideal unit for mounting or installation on larger boat cockpits.
This brings us to the end of our detailed test-review of the Lowrance HDS Live fish finder sonars and chartplotters. If you have any questions, additions or comments, please let us know – we are looking forward to your feedback – or have a look at the other fish finder reviews in our extensive fish finder test (including the newest models of all important fish finder manufacturers like Garmin, Lowrance, Humminbird or Raymarine). Have fun on your next fishing trip and "Petri Heil"! – Martin and Jens.