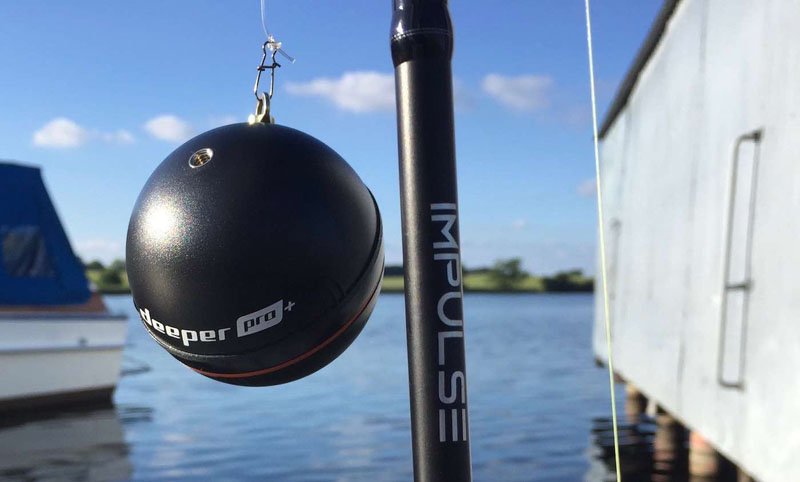 Greetings and welcome to the English version of the biggest German blog dedicated to finding fish and hotspots. We are currently working on having all our articles on this blog here – In the same quality of our German books and courses. You are welcome to support us in this process.
In case you have any inquiries, you can reach us by mail at [email protected]. We hope you enjoy reading and browsing through our content.
Tight Lines
Martin & Jens
Go Fishing With German Efficiency!
The Deeper CHIRP castable fish finder from Deeper (Lithuania, Europe) is primarily intended for quick, on-the-move fishing trips.
You can attach the wireless castable Deeper CHIRP plus to your fishing rod while fishing from the bank, your (belly) boat or fishing kayak, bridges or wherever else you've found your favorite hotspot. With this Deeper Smart sonar, you can immediately improve your chances of making a catch.
The Deeper CHIRP is also perfect for those who favor urban fishing. Especially when you're fishing in the city and standing shoulder to shoulder with other anglers, a portable and castable fish finder like the Deeper can really put you ahead of the pack.
You can even use the Deeper when you're ice fishing during the coldest times of the year.
In the following comprehensive Deeper fish sonar review, we go in-depth on the use and functionality of this fish finder.
We'll start with the most important aspect: at a price of over €250 / USD 250, the Deeper CHIRP isn't exactly a throw-away item.
How can you ensure that you don't lose your portable Deeper Sonar?
You can attach the Deeper CHIRP fish finder directly to your fishing line – or to a carabiner and leader line – using one of its 3 small, threaded eyelets. So far, so good.
The Deeper CHIRP weighs about 90 grams (3.2 oz), which means you'll need to use a robust rod, line and knots to make sure the Deeper doesn't go flying off in the wrong direction at some point.
(The Deeper CHIRP is thus lighter than its predecessors the Deeper Pro or Deeper Pro Plus).
Again, don't skimp on the line and the right knots for the job! It should go without saying that a loss of over €|USD 250 would be both unfortunate and frustrating (unfortunately, we speak from experience).
Here are a few tips on how to avoid losing your Deeper castable sonar:
A proper rod, rated for predatory fish or carp (approx. 3 oz (80 g) and higher).
Fishing line with at least 22 lb (10 kg) (ideally more) break strength.
Proper knotting with very tight knots.
Note: And now the most important tip of all: Set your brake of the spinning reel as lightly as you can while still ensuring the Deeper doesn't unspool any line when your rod is outstretched with the brake engaged. With your brake set up this way, you drastically reduce the chances of losing your Deeper Smart Sonar.
User recommendations for using the Deeper
Here's some advice from Andreas Zachbauer: To avoid losing your castable transducer, attach it to a 1 meter-long leader line with 66 lb (30 kg) break strength.
Attach the Deeper to one end and a small, load-bearing fixed float to the other. Then, if your leader line happens to break away on account of a cast or a snag, you can use a backup rod and wobbler to aim for the length between the fixed float and the castable Deeper Smart Sonar.
If only your hook or weights get hung up, you can simply reel in the leader line. The result: Your Deeper is now on the save side!
Fish Finder Tips: "What can a depth finder really do?" The ultimate webinar of "how to catch more fish with the deeper" is coming soon.
Where can you use the Deeper fish finder?

The Deeper CHIRP sends soundwaves downward and collects their reflected echoes. The intensity and duration of the echoes is measured and transmitted from the Deeper to your smartphone or tablet.
The Deeper Fish app then analyzes this data in order to display it graphically on-screen. The user (you) can then see and interpret what is going on underwater.
You can discern bathymetric features such as plants and undergrowth; individual fish – and schools – are also displayed.
The special thing about depth finders is that they can give you a good idea of ground density (second and third bottom echoes).
The best display size for a Deeper Sonar
The Deeper app offers detailed readouts on your smartphone or tablet and allows you to make the most of your display size – the bigger the better.
This is the most important benefit of the Deeper as compared to other mobile fish finders / depth finders in this price segment, which often have only a small display and aren't even portable! For rivers and lakes, the Deeper's transmission output is more than sufficient.
You can also update its software to utilize any new features and functions that the manufacturer releases.
Deeper CHIRP technical details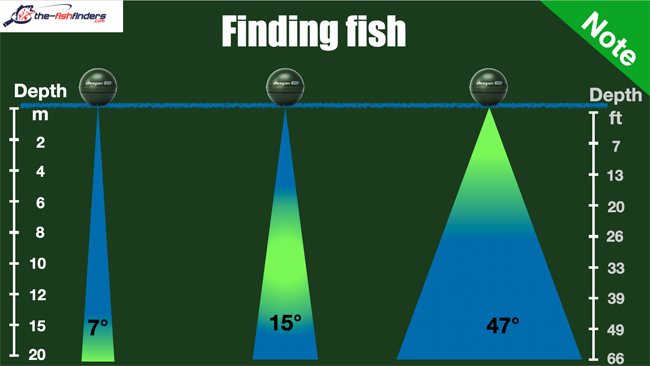 The Deeper CHIRP portable fish finder supports three different sonar beam angles: you can choose between 100 kHz, 290 kHz and 675 kHz frequencies. Don't confuse this selectability with dual-beam technology (which transmits and displays both frequencies simultaneously).
With the Deeper CHIRP, you can view one frequency or another at any given time. The 290 kHz frequency is transmitted at a 16° aperture angle, which creates an ideally narrow transduction cone for distinguishing even moderate depressions in the bottom.
You want to find hotspots? In our view, the 100 kHz frequency with a 47° aperture beam angle is completely superfluous from a depth of 49 feet (15 meters), the sonar cone has a diameter of nearly 43 feet (13 meters).
Practically speaking, this means that smaller holes in the bottom won't be recognized or displayed. Really, those holes are where a good deal of the fish like to hang out.
At this depth, the narrow sonar beam comes into play. At only 7°, it has a diameter of only 2 m or 6 feet at this depth. You can easily find holes where fish hide.
When should you use the 290 kHz frequency of the Deeper sonar?
If you're fishing at depths of up to 66 feet (20 meters ) and casting out between 33 and 100 feet (10 and 30 meters), go with the 290 kHz option on your Deeper.
The frequency results in detailed sonar images, and at a depth of 66 feet (20 meters), its 15° aperture angle produces a transduction cone with a diameter of 16 ft (5 meters). At a depth of 33 feet (10 meters), you'll have imaging from a cone with a diameter of 8 ft (2.5 m) – if you're not underway as quickly as you would be with a boat, that's totally fine! If you cast the Deeper out several times in succession, you can get a good picture of how things look underwater and recognize things like drop-offs, brush and other submerged obstacles.
The narrow aperture angle at 290 kHz is also ideal for the Deeper's bathymetric mapping feature – it scans the various, small changes in the bottom that the larger aperture angle at 90 kHz just can't catch.
When is the 90 kHz frequency of the Deeper sonar more recommendable?
Choosing a 90 kHz transduction cone entails an aperture angle of 55°. At a depth of  66 feet (20 meters), this results in a cone width of just under 72 feet (22 meters) being displayed on your smartphone. This can be worthwhile for viewing fish arches in the app, but you can pretty much forget usable bathymetry at this frequency – the scanned area is simply too large.
In very shallow waters (3 – 10 feet / 1-3 meters), you can use the wide aperture angle to display as many fish arches as possible and determine whether a given location has enough fish to qualify as a hotspot.
The 90 kHz frequency has a much longer wavelength than that of 290 kHz, which means that smaller fish can no longer be reliably scanned and displayed.
Fish-to-fish spacing also has to be fairly wide in order to identify individual fish. In short, you lose a lot of details when you use 90 kHz!
Update from the Deeper 3.0 to the Deeper Pro and Pro+
At long last, Deeper UAB development phase is over. In addition to the classic Deeper, there's now the Deeper Pro and the Deeper Pro Plus. The two new Deeper fish finders have brought a few welcome changes along to the party.
What distinguishes the new Deeper fish finder models?
The much-criticized Bluetooth connectivity has met a much-welcomed end. Effective immediately, both of the new Deeper depth finders operate via Wi-Fi. The Wi-Fi signal is significantly stronger than that of Bluetooth, which means that even submerging the Deeper won't interrupt the transmission.
According to the manufacturer, the new models have an effective range of up to 330 feet (100 meters). Would anyone ever want or be able to cast their $300 portable depth finder out to 330 feet (100 meters)?
We're more than a bit skeptical. Up to 5 friends can make connect to the Deeper and display the incoming information on their phones.
Changes made in comparison to the previous Deeper 3.0 model
The transducer's scanning frequency has also undergone a change. The Wi-Fi depth finders transmit their signal 15 times per second – that's twice as often as the classic Deeper.
Not only can they transmit at depths of up to 260 feet (80 meters), but the resulting transduction cone also provides a much greater level of detail.
If you're fishing from the bank, you'll never miss out on useful info again. The Deeper Pro Plus depth finder also boasts GPS functionality. Time will tell to what degree this feature drains your fish finder battery.
It's probably a good idea to bring an external fish finder battery pack to recharge on the fly. Incidentally, our highest recommendation goes to the GPS-equipped model. The mapping feature is a game-changer!
Deeper series overview
Bluetooth-only is dead in the water – Deeper 3.0 (Third iteration of the Bluetooth model).
For those who don't want or need mapping – Deeper Pro (Wi-Fi) (we can't understand why?).
Deeper Pro Plus (Wi-Fi and GPS) – (a good choice).
Deeper Start (nobody needs this model).
Our favorite – Deeper CHIRP plus (Wifi, 3 Frequencies and sonar cones).
This brings us to the end of our Deeper Chirp Plus smart sonar test. If you are still unsure about which fish sonar to buy, you can a have a look at or have a look at the other  fish finder reviews in our extensive fish finder and fish sonar test (including all the important manufacturers like Garmin, Lowrance, Humminbird or Raymarine) or write us a quick message. Have fun on your next angling trip and "Petri Heil" – Jens and Martin.