In this article, you'll get to know everything about the best fish finders of 2022. In our detailed test, we give you an overview of the latest models from the major fish sonar manufacturers Garmin, Humminbird, Lowrance, Simrad and Raymarine. We have divided them into different price classes and screen sizes for you (and your respective budget). You will also find important tips for choosing the most suitable model as an additional decision aid. Basic knowledge about depth finders is a prerequisite for making the right purchase when buying a sonar for fishing.
It only happens all too easily that you take the wrong decision and dump several hundred euros literally on the ground of the sea. When choosing a fish finder, the first thing to consider is, whether it is designed for your preferred fishing grounds, or not.
If important functions are missing or other unnecessary ones have been paid for at high costs, this is simply annoying. Because once the sonar has been installed and used, it is usually impossible to give it back or change it for another model.
The most important reason to get to grips with how fishfinders work, is to reduce the information gap between retailer and customer. The customer wants to spend as little money as possible on the functions he needs. The retailer, on the other hand, lives from sales.
That is why they often advertise new functions as virtually indispensable. However, only few people know whether these are really necessary. The latest functions, of course, are never cheap. If you don't care about the price, pick it up – go and get the latest (and most expensive) fish sonar.
But in case you want to cut down on costs:
you should acquire an equal level of information and knowledge as the salesmen. This is absolutely crucial in order for you to be able to
1. choose the right functions

2. as well as paying a fair price for them.
The money saved on buying a fishfinder well informed can easily amount to several hundred euros. You could use this money more wisely for another type of tackle. Or for a delicious dinner in your favourite restaurant – together with your partner or friends.
Afraid of getting recommended the wrong sonar by the vendor?
In order to even gain an information advantage over the retailer – or to at least communicate at the same level – we can recommend our course "Echo sounder knowledge for beginners – how to buy the right fishfinder". In this course you will get condensed knowledge from our own experience, so that you will be at least equally informed as any vendor. You will even be ahead of some of them.
Remark:
Never rush into buying your fishfinder: Doing the proper research takes some time – and sometimes some money too – but afterwards you will be able to make the best decision for yourself. And in the end, you will save money and, above all, your nerves.
Always keep in mind that it is often difficult to return a purchased fish finder if you have already installed it, only to realise that essential functions are missing.
Furthermore, who wants to take the boat out of the water in the middle of the season to change the sonar? Personally, I don't.
Conclusion: If you buy the right fishfinder right away, you will not only save money, but also nerves, and above all you will have more fun and success while fishing.
---
Table of contents:
---
1. What is important when choosing a fishfinder?
The purchase of a fish finder is a matter of trust. A buyer who has internalised this principle is the retailer's best friend. For us as critical buyers, however, the other way round is the right way round. First and foremost, you should trust your own level of information and your own ability to judge. If you approach your purchase under this premise, then mispurchases are definitely avoidable.
The fishfinder should help to increase the catch rate and thus the fun of fishing. As well as, above all, to reduce the time spent searching for the fish. At least that's the hope of most people thinking about buying a sonar.
But a sonar can do far more than many think, and often a quick glance at the screen is not enough to properly understand what's happening underwater. So it's important to ask yourself some basic questions before you buy (or use, at the latest):
What am I looking for?
Hotspots or fish arches?
Do I prefer fishing for fish on the bottom or in open water?
How deep is my body of water?
Do I need my sonar on vacation?
Do I also use the fish sonar in the sea?
Is it important for me to recognize many structures under water?
How expensive should my sonar be?
Do I need a chart function with GPS?
If you can't answer these questions for yourself, you should get an overview of what each function means and how it can help you find more spots and catch fish. >>> In this article you will find a more or less short overview of the most important functions.
1.1 Having up-to-date information is already half the battle
If you haven't already done so, read our article "7 tips: How to find the best fishfinder for me". The tenor of this article is: "Detailed information" and a "sound knowledge of the basics" are the best prerequisites for making fewer mistakes when buying an fish finder. It is certainly not detrimental to read our standard book "Der große Echolotratgeber" (The big fish finder guidebook) neither, which provides everything necessary and worth knowing on the subject.
1.2 Do not let yourself be impressed by big words
Many of the pretentious terms in the advertisements of manufacturers are pure inventions of the marketing departments. The aim is to impress the customer and give him the unfounded feeling that he is "allowed" to buy a unique product of high technical value. Please do not let yourself be impressed by this. If you take a closer look, all manufacturers also put on their trousers one leg at a time – even if some would like to convert water at least emotionally into wine.
1.3 The screen: The bigger, the better?
Well, in general, a large screen is to be welcomed. But whether it is necessary in a particular case depends entirely on the area of application.
With three applicable scanning techniques, which often also make a three-part screen desirable, one should definitely not go below 7 inches – a 9-inch device is probably even better.
In case you

fish mainly in deep saltwater,
often need the chartplotter for navigating
and also work with a 2D chirp transmitter (i.e. with a single scanning technique),
then a 5-inch screen that can be split into two (plotter/fish finder) is sufficient. 5-, 6- and 7-inch devices are predestined for portable operation. They can be inserted into standard fish finder pockets and are thus comfortable to handle.
Ultimately, however, the budget is the decisive factor. The extra price that you have to pay for a larger screen with the same technology is not worth it for occasional use. For a permanent installation on a boat, of course, the situation is different.
1.4 Pay close attention to the transmitter
Actually unimaginable, but unfortunately quite a reality in the fishfinder business. Expensive devices are sold equipped with some "transmitter". While detailed information about the technical possibilities and the compatibility with the sonar itself is not always provided. Therefore, pay close attention to the transmitter, and if in doubt, ask persistently and get the differences between manufacturer A and B explained to you. A good retailer will be happy to give an honest answer.
1.5 This is how you recognise a trustworthy vendor
After thorough preparation, search for a competent retailer who will guide your purchase neutrally and conscientiously. The following five questions should help you to find one.
Does he have all the usual brand manufacturers in his assortment? And can he also deliver all devices from the respective product portfolio?
Does he have a representative selection of popular devices ready for demonstration in his showroom?
Does he have an comprehensive and informative website where the customer can get informed in advance?
Does he take his time for every customer and does he properly address the wishes and needs of these? Can a personal appointment for consultation be arranged?
Does he offer training and individual support – not only during, but especially after the purchase?
Are consultation and favourable prices not a contradiction for him, but part of his business philosophy?
We answer many more questions about fishing with a fishfinder in our other articles about fish finder tipps, tests and reviews.
2. What should you consider when buying a fish sonar?
As already mentioned, it is essential that you inform yourself in detail before buying your personal fishfinder. This will assure, that you to choose the right device with the right functions for your personal requirements.
To help you with the decision-making process, we have summarised the most important functions of a fishing sonar in the following chapter. As well as the importance we attribute to each of them.
2.1 Essential Features:
Based on our years of experience, we have compiled a ranking of the most important fishfinder functions. For us, these are the most decisive criteria. We would not recommend buying a model that does not possess these features.
1. Genuine CHIRP transmitter –
100% important
CHIRP means improved fish detection. With single frequencies, fish can only be detected as single individuals at a slightly greater distance from each other. CHIRP, on the other hand, makes it possible to show even closely grouped fish as individual fish sickles..
2. Your budget –
95%
In a second step, we would then pay attention to your budget and cut back on the other functions. CHIRP comes first – everything else is subject to the available budget.
3. Traditional Sonar – narrow beam angle for the transmission cone –
91%
Only the narrowest possible beam angle of the traditional sonar (from 15° to 25°) allows the true bottom structure under water to be seen to some extent in order to detect bottom depressions that hide many fish.
4. GPS map ready –
85%
Only with a GPS map you can find the best hotspots while fishing. And you can also mark them for future trips. In addition, it is often possible to record the depth on the fly, giving you a fantastic overview of drop-off edges and underwater hills! GPS functions also increase safety in case of cloudy conditions. If you can afford GPS plus a nautical chart, you should consider making this investment.
5. Side Sonar –
83%
The side sonar is one of the best features to locate structures on the ground and find hidden hotspots. In addition, a bigger area is scanned. This saves some trips with the boat. The best thing is that you don't have to drive directly over the spot and maybe spook the fish before fishing.
!!! We rate this feature 83 for the following reason – the price!!! For many anglers, a side scan sonar is simply too expensive to purchase. We would always recommend to wait one more season, save more money and then get a fish finder with side sonar. This opens up a whole new world and you are guaranteed to find spots that you have always passed by.
6. Two individually usable frequencies –
75%
From our point of view, a combination of 2 frequencies (DUAL Beam) is not as effective as individually adjustable frequencies. With 2 individual frequencies, you can display the more appropriate of the two depending on the situation. In addition, different frequencies often use different beam angles.
2.2 Functions, which are nice to have:
The following functions are nice to have, but not indispensable. With these, you can therefore consider whether you will
firstly, use them to a sufficient extent,
so that, secondly, the extra-price you have to pay for them makes sense.
1. A wide screen with high contrast and high resolution –
83%
On the water, we need a lot of contrast in bright sunshine. Otherwise nothing can be seen and the sonar is useless. The size and resolution of the display is responsible for the clear details. A good transmitter provides a lot of details and the display must have the ability to show them.
2. Combination of two frequencies (DUAL-BEAM) –
60%
DUAL Beam has become popular among the low and medium priced models. It combines the advantages of two frequencies and displays the results in a single image. The narrow beam angle of one frequency provides the detailed ground structure, while the wider beam angle of the other scans a large area and thus shows many fish.
The disadvantage of this is that the distance of the fish from the boat cannot be determined exactly (see our book "The Ultimate Fish Finder Guide" p. 67, Download over 20 pages for free). In times of CHIRP, this function is slowly but steadily losing importance. However, due to the wider opening angle, it can be used well for trolling.
3. Output over 500 watts in fresh waters –
48%
For most inland waters, a 500 watt sonar is sufficient, as it is designed for depths up to 250 m / 800 ft. Transducers that use 1 kW are very often designed for the sea or really big depths.
4. W-Lan Funktion –
45%
W-Lan is trendy, W-Lan is state-of-the-art – and in fact, with this function, you can display the details of the transmitter on a larger tablet. This saves you money on the actual screen if you already own a tablet.
In terms of quality, the various fish finders differ in terms of
the visualisation and imaging,
usability
and user-friendliness.
The technical details such as
number of transmitters / transducers,
transmitting power,
resolution of the screen
as well as the coverable width of the transmitting cone (encoder cone)
are the decisive factors for most buyers. Some fishfinders are even suitable for depths of up to almost 1,000 m. Lowrance states a depth performance of 914 m for the Elite 9x CHIRP fishfinder.
It should be obvious to everyone that at such depths there is nothing left to interpret fish crescents, because the frequency of 50 kHz does not allow this level of detail. But it should be enough to find interesting spots on the bottom of the water for fish. But honestly. Who of us fishes at this depth?
Get the lowdown on how to make it to the premier league of fishfinder users! Become a sonar pro and catch up to 80% more fish with only 20% of the settings:
3. Fishfinder test 2022:
Anyone who was on the lookout for sensational innovations on the fish finder market at the Boot 2020 in Düsseldorf was disappointed. Almost all manufacturers were more into fine tuning last year's models in terms of equipment and technology than presenting major innovations.
For example
high-resolution Ultra HD ClearVü and SideVü for the Echomap family could be seen at the Garmin stand.
and Lowrance made themselves an interesting presence in the lower price range with the upgrading of their Hook units (Hook Reveal).
Raymarine had the same look as last year, but was in joyful anticipation of the innovations to come at CES in Las Vegas (February 2020). What was to be presented there was not disclosed.
There also seemed to be little progress at Humminbird. With no stand of their own and rather unmotivated wholesalers, detailed information was also rather difficult to obtain. We were told: "Unfortunately, our press spokesperson has already left". This leaves plenty of room for interpretation.
In the end, the purchaser can be indifferent to the actual extent of development, because even with a narrow price limit, he or she can already buy a device with a high technical standard. However, it is not always easy to decide which device to buy. For this reason alone, profound information is a top priority for buyers. We want to contribute to this – as we do every year – with our reviews of the fishfinder devices which are offered at the market this year.
All the models described here are current models. In our presentation of the individual models, we base as much as possible on practical experience. Brochure information and manufacturers' praise, which can often be read in slightly modified form in one or the other article, are of little value when it comes to user orientation and the practical utility value of a device. In our opinion, it is only with practical experience that well-founded purchasing decisions can be made, enabling long-term satisfaction when using the equipment on the water.
As already done in our past fish finder reviews, the overview is arranged chronologically by screen size (category 5 to 12 inches). The individual devices are listed by "price in ascending order". The prices listed always include a suitable transmitter, unless stated different. In each category, we conclude with a "best buy" recommendation (price-performance) and a price-independent device tip (test winner).
3.1 Entry level: 5- and 6-inch
Fishfinders with a 4 inch small screen are actually no longer on the manufacturers' agenda. At the shops and websites of most dealers, only a few devices from the "postage stamp class" are still listed. Even belly boat and canoe drivers now tend to go for something bigger. This is one of the reasons why we no longer want to present 4-inch models.
Looking at the sales figures, devices with a 5-inch screen are neither no longer the very first choice for those entering the fish finder market. The trend towards larger displays is mainstream. Today, it has to be a 7-inch device at least. Those who still go for a 5-6 inch device have good reasons, among which are
narrow price limit,
handiness
and lower energy consumption.

With a screen area of 80 cm², 5-inch devices are quite adequately dimensioned if you abstain from splitting the screen (for different scanning methods). Even the SideScan technique would be absolutely no obstacle when using the total area. Nevertheless, you must be aware that three scanning techniques (2D, Down- and SideScan) are problematic in this size class if the screen is split.
For this reason alone, it makes sense to consider whether a limitation to two scanning methods might be an obstacle for you or not. Splitting the screen in two is still acceptable in practical operation, but for a division into three screens, there is really no way around a larger 7- or 9-inch device.
Garmin, for example, has replaced its 5-inch model Echomap Plus 62cv with one with a 6-inch screen, which has visibly improved usability – especially when sharing the display.
At Lowrance, the newly lifted Hook-Reveal class starts at 5 inches. A sign that the manufacturer sees buyer potential in this range.
Humminbird also continues to serve the entry-level market with its G2 models.
Raymarine only offers the slightly older but therefore attractively priced Dragonflies.
A close look should be taken at the GPS capabilities of all candidates. In our experience, even in the entry-level class of fishfinder, it is advisable to buy a model with a chartplotter and SD card slot in order to work map-free with a "GPS-only" device.
a) Lowrance Hook Reveal 5 with 83/200 HDI-transmitter
With the Hook Reveal series, Lowrance has hit the mark. The Hook family has become much more attractive with these models. With versions in 5, 7 and 9 inches, the needs of a large group of buyers in the lower price range are covered. As the name suggests, the FishReveal function known from the Elite Ti2 series is integrated in this model variant. This allows the fish detection from 2D Chirp and the ground structure display of the DownScan method to be combined. This makes fishing and searching for fish much easier.
In addition, there is the automatic fine adjustment of the sonar. A function that many will be happy about. In addition, the user is provided with the Genesis Live real-time mapping and the built-in full-fledged chart plotter with a SD card slot. This has not been the rule in this price range so far.
In terms of sonar technology, Lowrance limits the 5-inch model to 2D Chirp and the DownScan method. Depending on the area of use, an 83/200 kHz HDI transmitter for freshwater or the deeper 50/200 kHz HDI model for saltwater are offered. With the Solar-Max screen, a good keypad and the updated hardware, you get a quality unit at an almost unbeatable price.
Lowrance Hook Reveal  5 – key features:
FishReveal™,
Genesis Live real-time mapping,
sonar with automatic fine-tuning,
83/200 HDI sonar with Med/High CHIRP and DownScan Imaging™,
preloaded worldwide basemap,
SolarMAX™ display,
new fishfinder colour palettes,
optimised keypad with quick access to key functions,
Mapping options such as C-MAP, C-MAP Genesis, Navionics and more,
microSD card slot,
easy recessed or bracket mounting,
and improved depth display in deep waters.
The Lowrance Hook Reveal  5 is available for about 300,00 €.

b) Humminbird Helix 5 CHIRP DI GPS G2 with transmitter / edition 2020
The Helix has most of the technical features that are useful and desirable for a very respectable price of around €400, including the transmitter. It is equipped with 2D and DownScan, which the included dual-beam transmitter can also realise. GPS and chartplotter are built in as well. Furthermore you can enjoy WLAN and the possibility of creating your own nautical charts.
The screen is high-resolution and has a stable viewing angle. The keypad works perfectly, but could do with a little clearer guidance. The  fish finder images come across well in 2D as well as in DownScan. Considering the rather small frequency spectrum when using the Chirp method, there is still room for improvement. This also applies to the processors speed, which is sometimes a little slow – for example, when building up a map.
Regarding the price-performance ratio, however, the device can be recommended without hesitation. Even though the Hook Reveal is a very attractive competitor at an even lower price.
HELIX 5cx G2 – key features:
12.7 cm (5″) TFT colour display with 1,500 cd/m², 800 x 480 pixels, 256 colours and LED backlight.
GPS: With chartplotter and integrated antenna (for NAVIONICS®+ charts, Humminbird LakeMaster, Humminbird AutoChart and Humminbird AutoChart Pro, which is optional), AutoChart LIVE is also integrated – with up to 8 hours recording time. Autochart ZeroLine charts for more recording time are available for an excellent extra price!
Waypoints, routes, tracklines: 2,500, 45, 50/20,000.
Software update via SD card,
CHIRP.
Down Imaging®: 75° & 45° transmission cone, 455 & 800 kHz @ -10dB, DualBeam PLUS™.
with SwitchFire, 16° & 28° transmission cone, 200 & 455 kHz @ -10dB.
Fish ID+™: Display of fish symbols with depth indication, A-Scope (RTS display).
Structure ID®: Bottom structure display, image scrolling speed adjustment.
Large and easy to read digital numerical values, depth alarm, fish alarm (for all three fish sizes).
Manual or automatic adjustment of zoom, sensitivity and depth range.
The HELIX 5cx G2 is available for about 400,00 € on.

c) Garmin Echomap Plus 62cv with GT20M-TM transmitter
The strengths of this Garmin fish finder are its high-resolution, 6-inch screen and its Chirp capabilities – including flexible use on different types of water (of course with the appropriate Chirp transmitters). From a technical point of view, 2D Chirp and DownScan (Downvü) are integrated. A chartplotter with a 5 Hz GPS and WLAN with limited function (not attachable to a helmet) complete the equipment.
This model makes sense for all those who want to use it flexibly in fresh and salt water (e.g. when fishing in Norway) and are prepared to upgrade their transmitters accordingly. Those who value excellent Chirp images in the 2D range should equip the unit directly with the GT22 high-chirp transmitter for freshwater and the GT23 saltwater transmitter, which unfortunately increases the price considerably. In this case, however, the 2D Chirp images are superb. Chirp-DownScan can't quite keep up, but it can be used successfully as a supplement in saltwater (the GT23 has 290 kHz DownScan) at greater depths. With the inexpensive GT20 standard transmitter, "only" basic sonar fare is offered. However, on a large 6-inch TFT, which visibly stands out from the 5-inch models in terms of surface area.
Garmin Echomap Plus 62cv – key features:
Combined unit with a bright 6″ display that is easy to read even in bright sunlight.
Includes the GT-20 transmitter for traditional Garmin CHIRP as well as CHIRP ClearVü™functions with mounts for the installation on transom and electric boat engine.
Preloaded worldwide basemap: compatible with BlueChart® g3 and BlueChart® g3 Vision premium coastal charts with integrated Navionics® data and Auto Guidance1 technology.
Built-in Quickdraw contours chart software to create your own fishing charts with 1ft (30cm) depth contours instantly while fishing.
Built-in Wi-Fi to pair with the free ActiveCaptain™ app to access OneChart™, Smart Notifications¹, Garmin Quickdraw™ community data and more.
Share waypoints and routes with other ECHOMAP™ or STRIKER™ devices.
Garmin Quickdraw Contours
Quickdraw Contours is Garmin's answer to the request of users to be able to map unknown waters by themselves – in other words, to create depth maps. The EchoMap Plus 62cv can now store such maps with depth contours of 30 cm (1 foot), covering up to 2 million acres (8000 km2). The programm is easy to use and requires no special knowledge.
Chirp und CHIRP ClearVÜ
The EchoMap Plus 62cv is equipped with the Garmin CHIRP technology and combines it with Garmin ClearVü functions. With the right Chirp transmitter, clean and detailed images are created, which ultimately lead to more more fishing success
The Garmin Echomap Plus 62cv is available for about 500,00 €.
d) Conclusion and recommendations for 5- and 6-inch models
Currently, devices with GPS – but without a chartplotter (such as the Garmin Striker) – are at a disadvantage. With the Hook Reveal, Lowrance has shaken up the competition in terms of features and price. The Lowrance Hook Reveal 5 is our "best buy" and it also deserves the first place in the this test among the three models presented. The Echomap 62cv is certainly decent in all respects, but only has real advantages over the other two models, if it is equipped with a genuine Chirp transmitter (e.g. the GT22M-TM). But in that case it is about twice as expensive as a Hook Reveal 5.
3.2 The new entry-level class: 7-inch
7-inch devices are a good compromise between screen size (small tablet format) and handiness. If you want to use your fish sonar portably, this class is the right choice for you. This also applies, if you want to buy price-consciously or are looking for a second device for outside the boat. Because with 7-inch units, all manufacturers essentially already offer the technical features that we can find equally in the models with 9 inches or more. So, if you are considering a 7-inch model that meets your needs, you are sure to find the 9- or 12-inch equivalent within the same series.
In other words, many models within a series are technically identical, they only differ in screen size.
As with every rule, there are a number of exceptions. Humminbird, for example, doubles the power output of the 9-inch models from 500 watts to 1 kW (compared to the 7-inch models), depending on the product line. Other manufacturers add additional features. So it is definitely worthwhile to study the model description for every model in detail.
If you are looking for innovations in the 2022 model year among the 7-inch fishfinders, however, you will mainly find model upgrades of already existing series. There have been no real new launches so far – but they may still come in the course of the year.
Become a fishfinder expert:
Mit uns!
a) Raymarine Element 7sv with HV-100 transmitter
The new Element series from Raymarine has it all. With Chirp, Down- and SideScan as well as RealVision-3D, four sonar technologies are integrated. Which moreover can easily by implemented by the newly developed HV-100 all-in-one transmitter. With this new innovation, the company has taken the sonar technology to the next level. Hypervision is the keyword: This refers to the high-resolution display of all 4 scanning techniques at 1200 kHz. The result are extra precise and detailed images, which show more structure and clearly identifiable fish signals in all 4 methods.
Although this is somewhat at the expense of depth range – the advantages for shallow water use are obvious. One does not have to be a fortune teller to predict market success for this model series. The recommended price of the 7-inch version (including the HV-100 encoder) of around 700 € is a real price-performance gem that puts the competition to shame. Especially since integrated 3D functions are not to be found elsewhere in this price range.
Of course, the current retail price of less than 700 € also has some drawbacks. The touchscreen with the glass surface of the Axiom series is eliminated to make place for an option with a keyboard. On the one hand, you may miss it, while on the other you possibly will be pleased that the card slot can be handled from the front again. The dignified Lighthouse 3 operating system has also been simplified and is now called Lighthouse Sport, which is more specifically tailored to the fishing community. Also missing is the digital sonar option of the Axiom models at 200 and 50 kHz.
Otherwise, the equipment of this Raymarine fish finder is comparable to the Axiom series in terms of hardware (smaller RAM) apart from the missing marine network integration. The streamlining of the Element models has been successfully accomplished. Considering the complete package, these compromises can be easily forgiven. Above all considering the more than attractive price.
Raymarine Element 7sv – key functions:
Operating system: Lighthouse Sport.
Screen: 800 x 480 pixels WVGA.
Operation: Keyboard.
Sonar: Built-in CHIRP sonar, DownVision (standard and hyper), SideVision (standard and hyper), RealVision™-3D (standard and hyper).
Reachable depths: CHIRP Sonar = 900 feet (274 m),
DownVision™ Standard = 600 feet (183 m) | DownVision™ Hyper = 100 feet (30 m),
SideVision™ Standard = 91 m (300 feet) | SideVision™ Hyper = 30 m (100 feet),
RealVision™ 3D Standard = 91 m (300 feet) | RealVision™ 3D Hyper = 30 m (100 feet).
Fully equipped plotter
Chart options: Raymarines LightHouse NC2, Navionics, C-MAP Essentials (basic equipment) , C-MAP 4D MAX+. Compatible with all maps listed in Raymarine's map store.
SD card slot: 1
Network: NMEA2000 port.
Connections: Wifi, Bluetooth.
Internal memory: 8GB SSD.
Transmitter: 4-in-1 HV-100.
The Raymarine Element 7sv is available for about 650,00 €.

b) Simrad Go7 XSR with Active Image transmitter (3-in-1)
With the Active Image transmitter, C-Map Genesis Live, Chirp and Broadband Sounder, as well as integrated wireless connection (Wlan, Bluetooth) and a high-resolution display, the Simrad Go 7XSR scores as an excellent alternative to the almost identical Lowrance Elite Ti². At a price of around €900, Simrad has eased the eternal discussion about the transmitter in connection with the Chirp technology somewhat through the new Active Image transmitter.
This is made possible by a software optimisation, which is also available as an update for older devices, as well as the new hardware of the encoder. With improved image sharpness, higher contrast and clear object separation, the fish search is more successful.
Of course, the high-resolution display (800×480) also contributes to this. The operation on the touchscreen runs smoothly and without delay. Familiarisation is quick thanks to logical processes. The possible settings require a little experience, but this comes automatically over time. With the options of integrating a Simrad radar via Plug&Play, the additional TVG software for better fish detection and the integrated ForwardScan sonar (extra transmitter), the Simrad Go XSR clearly stands out from the Elite Ti² in terms of equipment.
Simrad Go7 XSR – key functions:
User-friendly multi-touch interface.
Fully featured chartplotter with the most extensive map support available (Insight, Navionics, CMAP).
Intelligent planning with TripIntel™ technology.
17.78 cm / 7-inch display that can be embedded or attached with a bracket.
Widescreen display with LED backlight,
High-speed GPS receiver with 10 Hz,
Wideband sonar with CHIRP,
StructureScan with DownScan and SideScan (455,800 kHz),
Radar display for Simrad Broadband 3G™/4G™ and Halo™ pulse compression radar,
integrated GoFree™ WLAN,
and NMEA 2000® compatible.
The Simrad Go7 XSR is available for about 650,00 €.

c) Garmin Echomap UHD 72sv with GT54M-TM transmitter
With the three common sonar functions (2D, DownScan and SideScan) in Chirp technology, an Ultra HD-compatible DownVü and SideVü, the very good GT54 High Chirp UHD transducer (3-in-1), as well as a top chart plotter, highly sensitive GPS and Wlan, this model is more than fully equipped. Improved hardware with fast processor speed and a dual operating concept contribute to the device's competitiveness in this price class.
In addition to the flawlessly working touchscreen, the device also has a function keyboard on which presettings or configurations can be stored and called up at the touch of a button. A very convenient solution. Unfortunately, Garmin was not able to convince themselves of integrating the helmet function (display and operation via tablet / smartphone) with the WLAN. Furthermore, the GPS module with its 5 Hz frequency is half as slow as that of competing devices (which, however, has not necessarily turned out to be a disadvantage in practice).
In addition, the Echomap UHD 72sv impresses with excellent manufacturing and above-average performance in the traditional Chirp range, as well as excellent results in the Ultra HD-segments. In addition, it can be used flexibly in freshwater and saltwater – with the appropriate transmitters, of course. Quick Draw Contours for the individual creation of nautical charts is of course also possible with this model.
Garmin Echomap UHD 72sv – key functions:
Bright, 7″ display with touchscreen button combination that is easy to read in all lighting conditions.
Built-in support for traditional Garmin CHIRP sonar, as well as CHIRP-ClearVü™ and CHIRP-SideVü™ sonar in ULTRA HIGH DEFINITION (UHD) (800 -1200 kHz).
Powerful chartplotter: Comprehensively equipped, with high-sensitivity GPS.
Compatible with Panoptix fishfinders for a panoramic view ( transmitters not included) underwater.
Preloaded worldwide basemap: Compatible with BlueChart® g3 HD and BlueChart® g3 Vision® HD.
Built-in Quickdraw contours map software to create your own fishing maps with 1ft (30cm) depth contours on the fly.
Built-in Wi-Fi to couple with the free ActiveCaptain™ app to access OneChart™, Smart Notifications1, Garmin Quickdraw™ community data and more.
The Garmin Echomap UHD 72sv is available for about 1000,00€.

d) Conclusion and recommendation for the 7-inch models
The selection is particularly extensive in the 7-inch class, which of course does not make the decision any easier. The possible price range is just as large. While a Garmin Striker 72SV can be purchased for considerably less than 600€ including a Gt52 transmitter, you can easily spend over 2000 euros in the high-end series.
In our field of three the new Raymarine Element 7 HV with the HV-100 quad transmitter is both the test and price-performance winner for us. It has everything that is technically possible in this size- and price-class and also convinces with its scanning results through high-frequency technology in all three modes: DownScan, SideScan and RealVision-3D.
The conventional 2D Chirp range corresponds to the performance class, the screen is one of the best in the competition. Only the GPS sensitivity is somewhat weaker, but is supposed to have been improved by software updates in the meantime. What clinches the deal is the price of under 700€, which is remarkably low in direct comparison with the competitors.
3.3 The widescreen class: 9- and 10-inch
With fish sonars, we are the same as with our television set at home. The screen can't be big enough. However, this desire is often contradicted by personal budget constraints on the one hand, and on the other hand, handiness suffers and energy consumption rises with increasing screen size. The latter is always an issue in mobile use.
The fact is, however, that anyone who has ever worked with this screen size would not want to do without it again. It feels like the 9-inch version (225 cm² screen area) is almost twice as big as a 7-inch device (133.3 cm²). With SideScan, you can enjoy the "details at a glance" and the three-split screen saves you the postage stamp sensation of a 5-inch model.
With the new Lowrance Hook Reveal you can enter this category for as little as 600 euros, but then you are equipped with an HDI transmitter that cannot utilise all the possibilities of the device. If you want to start at a higher level and are looking for full equipment, you will quickly have to spend three times that amount. Nevertheless, when buying a new unit, you should consider whether a 9-inch unit fits into your budget.
Only if you want to use your future fishfinder mainly in a portable way, you are better off sticking to a 7-inch version. It is not only a balanced compromise between handiness and image size, but also fits easily into a universal sonar bag. This saves costly home-made constructions, which are usually uncomfortable to handle and sometimes do not meet the necessary safety requirements. Although manufacturers now also offer inexpensive series in 9- to 12-inch sizes.
Often, but not always, larger models are technically identical to the 7-inch versions. However, modifications or more features are possible in any case. Devices designed for professional use thus often start at 9 inches. The trend towards the 9-inch fishfinder as an entry-level model was clearly visible among all manufacturers at the Boot 2020. Nowadays it is already possible to enter the 9-inch segment at a reasonable price (even without a major reduction in requirements). For example, with new editions such as the Raymarine Element 9 for about 1100 €. And even the revised Humminbird Helix 9 in full equipment with amazing features costs "only" around 1400.00 €.
Become a fish finder professional:
Mit uns!
a) Humminbird Helix 9 CHIRP MEGA SI+ (plus) GPS G3N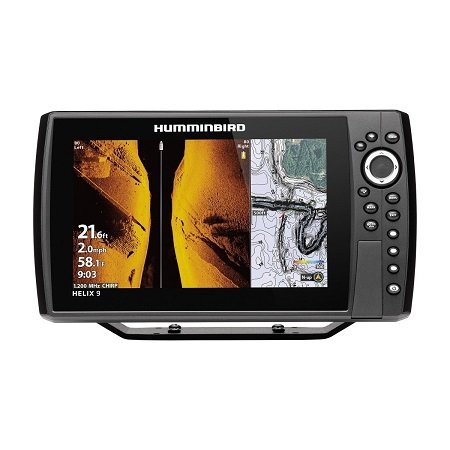 The Humminbird Helix 9 Chirp Mega Si+ G3N from the revamped Helix G3 series presented here satisfies even the most demanding anglers and scores not only with an excellent price-performance ratio.
To give an overview of the other functions, let's start with the conventional wideband Chirp. The newly developed mega-image transmitter XM-9HW-MSI-T features significantly improved object separation and thus reproduces the ground view in great detail. It operates in a standard frequency range of 150 – 220 kHz and can be opened to 42° (wide beam) for maximum coverage or to 25° (narrow beam) for a detailed ground view.
With 500 W transmission power, depths of up to 300 m are possible using the traditional 2D method. For this purpose, the manufacturer has integrated three frequency ranges with 455, 800 and 1200 kHz for SideScan and DownScan. This creates the prerequisite for using the technology in deeper regions over 100 m or for recording first-class photorealistic images in shallow water (up to 60 m) with the mega-image disposition.
In combination with Chirp and Switchfire, this creates images that are momentarily unrivalled in clarity, detail and resolution. If you want, you can also use the included zoom options to view objects in detail or mark interesting places with waypoints. In this way, a stretch of water can be explored quickly and efficiently.
The integrated plotter of course masters both waypoint management and route recording and can also be used to create your own waterway maps via Autochart Live. Autochart Live is comparable in function and user orientation to the highly praised Quick Draw Contours solution from Garmin.
The Helix 9 Chirp-Mega has all the equipment needed to communicate with the outside world or to operate in a marine network. Bluetooth, NMEA interface and Ethernet connection are provided. With an RC 2 remote control, the whole system can also be operated wirelessly. A backlit and high-resolution display, usable even in unfavourable lighting conditions, as well as convenient handling with programmable shortcut keys complete the extremely positive overall impression. We have thus found our price-performance winner.
Humminbird Helix 9 Chirp Mega SI+ G3N – key functions:
455 kHz, 800 kHz and MEGA Side/Down Imaging,
Dual Spectrum CHIRP with 150-220 kHz (selectable transmission angle, XM-9-HW-MSI-T),
additional transmitters available,
SwitchFire sonar,
as well as Top-Plotter, GPS-, Navionics- and C-Map compatible.
Humminbird Basemap,
AutoChart Live,
Ethernet marine network,
Bluetooth,
remote control,
and 9-inch display with 1024×600 pixels.
The Humminbird Helix 9 Chirp Mega SI+ G3N is available for about 1400,00 €.

b) Raymarine Axiom 9 RV 3D with 600W-sonar and RV-100 transmitter
The Raymarine Axiom combines four sonar technologies in one unit (2.0 kg in weight) and, with the RV-100, it has a transmitter that can take advantage of all four of them (Chirp-DownVision, Chirp-SideVision, High-Chirp-2D and RealVision-3D). With 600 W transmitting power, a 4-core processor as well as 4 GB RAM, the signals are processed quickly. This is just as beneficial for three-dimensional images in real time as for CPU-intensive screen splits or layout-intensive nautical chart displays – all of which therefore are displayed delay-free.
The new Lighthouse 3 operating system
runs fast and smoothly,
is intuitive to operate,
clearly laid out user interface and can be
and can be individually adapted to your personal needs.
With full integration into the manufacturer's marine network, any desirable expansion from the accessories programm is possible. Whether radar, thermal imaging camera or autopilot – you name it, we'll play it.
WLAN and Bluetooth connections are also integrated. They not only establish the connection to the outside world, but also allow viewing and control via a tablet or smartphone. The performance in 2D Chirp and DownScan is convincing, SideScan is rather average. The images are somewhat soft in sharpness, but the detail reproduction is very good.
The 3D options are expressive and individually adjustable in perspective. With this technology, the Axiom 9 also has an unique selling point in an integrative system with a single transmitter. In respect of the plotter, everything that can be expected in terms of functionality and equipment is available – only the GPS sensitivity could be improved.
The finishing of the Axiom is coherent. The all-glass front of the excellent screen and the pleasing overall design have something noble about them. However, you have to live with the disadvantage that the SD card slot has been relocated to the back. The optional SD reader, on the other hand, requires installation in the cockpit. At least it is available as an accessory.
Raymarinem Axiom 9 RV 3D – key functions:
WSVGA display: 1024×600 pixels,
Transmitting power: 1 KW,
Dual frequency sonar: Yes,
Operating system: Lighthouse 3,
Screen: 800 x 480 pixels WVGA,
Operation: Multitouch display with full glass front,
Sonar: Built-in CHIRP sonar, DownVision, SideVision, RealVision™-3D.
Reachable depths: CHIRP sonar = 274 m (900 feet),
DownVision™ standard = 600 feet (183 m),
SideVision™ standard = 91 m (300 feet),
RealVision™ 3D standard = 91 m (300 feet).
Fully equipped plotter,
Chart options: Raymarines LightHouse NC2, Navionics, C-MAP Essentials (basic equipment), C-MAP 4D MAX+. Compatible with all maps listed in Raymarine's map store.
SD card slot: 1,
High performance processor: 4 core,
Memory: 4 GB,
Network: NMEA2000, Ethernet, marine network compatible, Wlan and Bluetooth.
Transmitter: 4-in-1 RV-100.
The Raymarine Axiom 9 RV 3D is available for about 1600,00 €.

c) Lowrance HDS-9 LIVE – with Active Imaging 3-in-1 transmitter
The new Lowrance fish sonar flagship, here in the 9-inch version, features not much in the basic configuration, but can optionally do a lot – to almost everything. This is not a contradiction. The device is compatible with all the new and latest sonar functions that the manufacturer has to offer. Starting with Active Imaging and the new 2-in-1 and 3-in-1 transmitters, the modified 3D-StructureScan with Active Imaging, LiveSight real-time sonar and the FishReveal function in the DownScan.
Of course, one or the other of the functions just mentioned is dependent on the transmitter, i.e. you need to purchase additional transmitters to the standard one. If you only work with a standard transmitter, e.g. an Active Imaging 3-in-1, the advantage over a cheaper Lowrance fishfinder such as the Elite 9 Ti is consequently smaller. So if you don't want to invest in additional transmitters in the future, you're purchasing top-of-the-line technology here that you won't be able to use completely in the first instance.
In addition, an Airmar encoder (TM150) is still recommended for optimal results in the conventional 2D Chirp range. Compared to the Total Scan model, the Active Imaging transmitters are certainly better in terms of detail reproduction, object separation and structure gradient. But they do not yet come close to the Airmar results in 2D images.
Overall, however, this member of the Lowrance HDS Live series is definitely worth a recommendation. The Sonarmax HD display with multitouch is currently the best screen in its category. Sharpness, contrast and image angle stability speak for themselves. In terms of hardware, a dual-core processor provides the necessary fast processes required for memory-consuming map overlays and the correspondingly CPU-intensive real-time functions.
C-Map Genesis is now also used live for chart generation, and those who like multi-transmitters can experience the marine network live as well. Full integration into this network as well as communication options via WLAN and Bluetooth are of course available.
The integrated plotter is faultless in all respects – from GPS sensitivity to the use of the auto-routing functions. The multi-touch display and the corresponding operating system are excellent to work with. Only the 12- and 16-inch models are even better equipped than the 7- and 9-inch units. These are not only more user-friendly (function keys) but also have a quad-core processor. Fast, faster – the fast and the furious.
Lowrance HDS-9 LIVE – key functions:
Supports Active Imaging™ 3-in-1 sonar (CHIRP/Side/Down),
as well as Active Imaging™ 2-in-1 Sonar (Side/Down),
and StructureScan®-3D with Active Imaging enhancements.
Compatible with LiveSight™ real-time sonar,
smartphone notifications,
powerful dual-core processor,
C-MAP® Genesis live on-screen mapping,
FishReveal™ with intelligent target recognition,
high-resolution 9-inch SolarMAX™ HD multi-touch screen with a wide range of viewing angles, easy to view even through polarised sunglasses.
Preloaded, highly detailed, enhanced C-MAP® maps for the USA with 1-foot contours on 4,000 lakes.
C-MAP Easy Routing and Navionics® Autorouting function.
Dual Channel CHIRP: Dual sonar range coverage from the same transducer.
Live Network Sonar: Cover more waters and mark fish targets more clearly from a network of CHIRP sonar transmitters.
Compatible with SiriusXM® marine weather and audio.
Wi-Fi and Bluetooth® connectivity.
The heat map feature allows anglers to track changing trends in water temperature to find fish locations even faster.
Improved surface clarity lets you see more fish close to the surface.
The rapid access control bar provides instant access to system controls.
Touchscreen control of MotorGuide® Xi5 trolling motors, Power-Pole® anchors and Lowrance Outboard autopilots.
Radar and SonicHub®2 audio server connectivity,
NMEA 2000® engine support,
and optional map upgrades including C-MAP, Navionics® and more..
The Lowrance HDS-9 LIVE is available for about 2100,00 €.
d) Conclusion and recommendations for 9- and 10-inch models
In the 9-inch segment, you can start at a very reasonable price of around 600€ (Garmin Striker 9sv, Hook Reveal 9 HDI), if you are not looking for too sophisticated technology and innovative features. With these you will quickly find yourself in a price range of around 2000€. In our field of three, the best-equipped Humminbird Helix 9 Chirp Mega as test winner is almost a bargain – and therefore our clear purchase recommendation. However, the other two candidates can each claim a partial victory. The Raymarine Axiom 9 for its hardware and integrated 3D technology. The Lowrance HDS 9 Live for the universality of its sonar techniques in combination with the also very sophisticated hardware equipment.
3.4 The magnum class: 12-inch
A dream – but unfortunately almost unaffordable for the petty cash of the average user. Fishfinders of this class usually have their own boat, enjoy a cockpit installation or are enthroned in the skipper's view on one. In terms of hardware, we are operating in the 1 kHz range (exceptions confirm the rule, as always), which means that even large inboard transmitters can be supplied. In terms of equipment, everything that is good and expensive in sonar technology (from ForwardScan in 3D to panoramic view) is possible.
Multifunctionally, such devices can be used for everything from house music on the water to thermal imaging and radar – of course, always with integration into the respective marine network. As far as the connection to the outside world is concerned, modern communication requirements are naturally met as well. Those who are interested in a 12-inch model usually do not have to worry about the additional cost of one or two extra features.
This class of instruments is certainly visually appealing, technically sophisticated and very desirable. This is because most manufacturers have started to equip the high-end model series, which are not so far apart from the transmission power of the 9-inch devices, with additional features. The additional price is therefore not only justified by a larger screen.
For example, Lowrance not only spices up the HDS Live series from 12 inches onwards with a faster processor, but also offers keyboard operation with shortcuts in addition to the multi-touch TFT. A feature that is very helpful in rough weather conditions. In terms of price, there are of course cheaper models available in the 12-inch segment. However, since the clients in this class are financially independent, it is usually not decisive whether the fishfinder costs a few dollars more or less. Or if additional transmitters have to be purchased.
Werde auch Du zum Echolot-Profi:
Mit uns!
a) Humminbird Solix G2 12 CHIRP MEGA SI+ (plus) GPS G2
If you ignore the excellent 12-inch screen and the options for operating the device via touchscreen or, with the same range of functions, via the keyboard, the technical equipment is largely identical to that of the Helix 9 sister model. Even the 500 watt transmitting power has remained the same. Yes – the design, the integration into the marine network and the wireless communication options are spot on. The sophisticated plotter with its autochart live functions and the fast-working hardware are equally satisfying. But we have already seen all of this with the Helix 9.
Humminbird Solix G2 12 CHIRP MEGA SI+ – key functions:
Display: 30.7 cm / 12.1″ 1280×800 pixels.
Chart plotter and GPS receiver.
NAVIONICS®+: HotMaps or PLATINUM+™.
HUMMINBIRD maps: Humminbird AutoChart Live (up to 8 hours of depth contour recording in the unit), with optional AutoChart or AutoChart PRO software you can create your own maps.
Route recording: With up to 10,000 waypoints, 50 routes and 50 tracklines with up to 20,000 trackpoints.
Advanced accessories: 360° imaging, AIS, CHIRP radar, NMEA 2000®, Minn Kota® i-Pilot®-Link™ and 5-way expansion module.
Sonar technology: 455 kHz, 800 kHz, and Mega Down/Side Imaging.
Dual Chirp 150-220 Khz ( transmission angle adjustable). Dual control concept: Via touchscreen or keypad..
The Humminbird Solix G2 12 CHIRP MEGA SI+ is available for about 3200€ (transmitter not included).

b) Raymarine Axiom PRO 12 RVX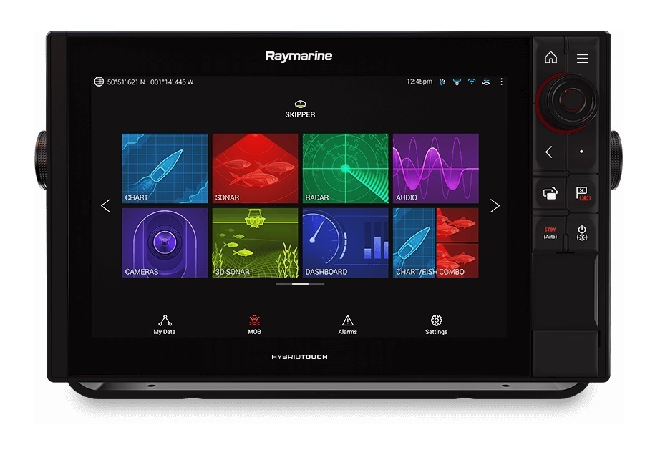 Raymarine has significantly upgraded the basic concept of its Axiom series with the Pro family. With
a 1 KW (instead of 600 W) Chirp Sonar,
the RealVision 3D imaging
and the two StructureScan methods.
When it comes to DownScan and SideScan, we see the lush Axiom standard again. However, the quad-core processor now has access to 16 GB of RAM and the 12-inch IPS HD display illuminates the LightHouse III user interface magnificently. The multitouch operating concept has been supplemented with an alternative keyboard function. Many users will appreciate this.
Of course, the Axiom Pro can be expanded into a modern marine network, but that should be a matter of course in this class. USB connection, 2x Ethernet, WLAN and Bluetooth round off the communication options. The plotter is fully equipped. The GPS sensitivity has been significantly improved compared to the normal Axiom series. Sea charts from Navionics and Jeppensen can be used optionally. In addition to the use of Navionics nautical charts, it is possible to produce – or add – your own nautical charts.
Raymarine Axiom PRO 12 RVX – key function:
Operating system: Lighthouse 3,
Screen: 1280 x 800 pixels,
Control: multi-touch display / keyboard,
Sonar: Built-in CHIRP sonar (1 KW), DownVision, SideVision , RealVision™-3D.
Reachable depths:
CHIRP Sonar = 900 ft (274 m).
DownVision™ Standard = 600 feet (183 m)
SideVision™ Standard = 91 m (300 feet)
RealVision™ 3D Standard = 300 feet (91 m).
Professionally equipped plotter.
Chart options: Raymarine's LightHouse NC2, Navionics, C-MAP Essentials (basic equipment), C-MAP 4D MAX+ – compatible with all maps listed in Raymarine's map store.
2 SD card slots,
High-performance 4-core processor,
16 GB memory,
Network: NMEA2000, NMEA183, Ethernet.
Full network integration via Wifi, Bluetooth and USB..
The Raymarine Axiom PRO 12 RVX is available for about 4000 € (transmitter not included).

c) Garmin GPsMap 8412xsv
The new 8400 series from Garmin starts at 10 inches and reaches up to the oversized 22-inch model. The price structure is accordingly. Garmin has done a great job with these devices. The quality of the screen has been significantly improved. It now meets even the highest expectations and can easily compete with the excellent SolarMax HD screens from Lowrance. The built-in sonar technology supplies everything that Garmin currently has in its range. In addition to the conventional Chirp methods (with a wide range of transducers available as an option), the unit is capable of DownScan and SideScan up to the high-resolution 1.2-GH display. As well as with the newly developed Panoptix Livescope LVS-12 transmitter also "small" Livescope on one level without additional black box.
Small livescope means that the transmitter only sends on one single level with an beam angle of 30°. This restricts the scanning range, otherwise the division into two parts with Forward and Down has remained. To match these options, the manufacturer has also beefed up the hardware. Of course, the unit has all the communication and marine network integration options expected in this class. With 1 kW transmission power and a comprehensively equipped plotter with high-sensitivity GPS, you are well set up. There is nothing to criticise about the multi-touch display. With the Smart Mode user interface, many operations are completed with a single tap. An alternative control via a keyboard, however, is not provided.
Garmin GPsMap 8412xsv – key functions:
Chartplotter with 12-inch touchscreen and full HD IPS display ( In-Plane Switching),
12-inch full HD IPS touchscreen,
Fully network-enabled with NMEA 2000® connectivity and the Garmin Marine Network, with ANT® technology and Wi-Fi networking capabilities.
Garmin SailAssist™ provides vital sailing data and offers a wide range of assistance for regatta enthusiasts.
The SmartMode™ interface gives DeepL access to all important information – at the touch of a finger.
Full sonar support,
Personal marine network setup,
Top plotter with G3 marine chart support
as well as integrated boat app.
The Garmin GPsMap 8412xsv is available for about 4000 € (transmitter not included).

d) Conclusion and recommendations for 12-inch models
For us, the winner of the test is the Garmin GPSMAP 8412 xsv – if only because of its extensive sonar functions without a black box. The fishfinder also offers a high standard of quality in terms of features and functionality. The Humminbird Solix G2 12, on the other hand, deserves the price-performance victory, although it essentially incorporates the technology of the Helix 9 Chirp Mega Si+. Given the price difference between the two models, one would definitely expect a little more than a 12-screen display and an additional keypad.
4. Sonar on the fishing rod: Fishfinders not only for shore anglers

Wireless and castable fishfinders are the latest trend of the spoilt mobile phone generation – some say. Valuable technical aid with high mobility, others say. And as it so often is the case, the truth lies somewhere in the middle.
Because finally the shore angler not only has a spinning lure on his fishing rod with which he can scan large areas of water. But also a sonar device that replaces the depth sounding and provides clear images of underwater structures (including fish detection). With this, shore fishing loses some of its unpredictability and surprise – the very things we actually love about it.
But just as the electronic bite indicator has become somehow obligatory equipment for carp fishing, the wireless fishfinder will soon be just as important. Maybe just to have another reason to pick up the mobile phone in the quiet moments of fishing. By the way: Deeper and Co. can be used just as flexibly from the boat. Let's hope that wives, girlfriends and partners (and of course their male counterparts) have understood this friendly hint for the next gift purchase.
How to use the Deeper correctly:
Mit uns!
4.1 Deeper Pro and Deeper Pro Plus
With its two frequencies, the Deeper fish finder from Friday LAB is currently one of the highlights in the Wifi sector. Finally, anglers can see what's going on underwater from the shore and find fishing hotspots without having to search for them all day long. With the Deeper, fishing is being reinvented – or at least fundamentally changed to some extent. We fishermen finally have something to gain from the progressive miniaturisation of technology. The Deeper Pro model presented here brings more range (up to 100 m) and more depth (up to 80 m). The two scanning frequencies of 90 and 290 kHz ensure both excellent detail and a large detection range. The Deeper Pro Plus also features GPS and a map function.
Watch this video to find out more about the Deeper Pro and the Deeper Pro Plus – the fish finders for fishing from the shore:
Deeper Pro and Pro Plus – key features:
Diameter: 6.5 cm.
Weight: 100 g.
WIFI range (partly dependent on smartphone or tablet): up to 100 m.
Maximum depth: 80 m.
Units for water temperature: Celsius / Fahrenheit.
Units for water depth: metres / fathoms.
GPS: L1 48-channel GPS receiver, accuracy 3 m at 50%.
Working temperature: -20° C to +40° C.
Battery / rechargeable battery: Lithium-polymer battery 3.7 V / 850 mAh rechargeable. Running time with 290 kHz up to 6 hours.
Charging time with empty battery approx. 2 hours.
Transmission cone / frequency: 15° at 290 kHz, 55° at 90 kHz.
Scan frequency: 15 x per second.
Firmware update: Via app.
The Deeper Pro and Pro Plus are available for about 200€.

4.2 Lowrance Fish Hunter 3D (our second test winner)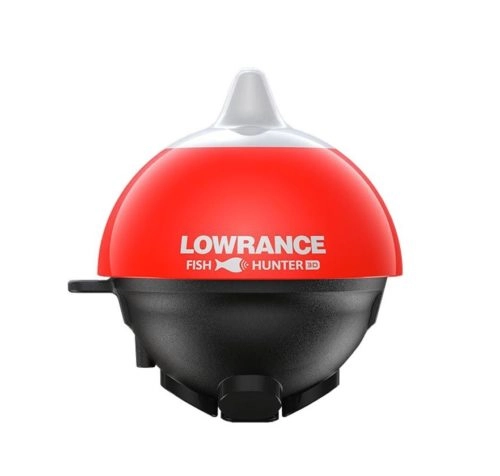 A new star on the horizon of wireless fishfinders, with which the Lowrance developers have done a great job. Although the range of around 65 m and a detectable depth of 65 m are clearly behind the Deeper Pro (Plus), the
five sonar views,
fishing (depth) map,
3D Structure Mapping,
Direct Casting,
3D Fishing
and the flasher for ice fishing
are setting new standards. Another highlight is the 5×3 frequency transmitter, which consists of five individual transmission crystals with three transmission frequencies each (381 kHz, 475 kHz, 675 kHz). The purpose of this arrangement is to be able to scan each module individually in order to be able to localise the fish position even more precisely. Based on the high frequencies used (compared to the Deeper), it is clear why less depth is possible. On the other hand, the display is very differentiated and the 3D display has sufficient detail. A great device, which is not only highly visible due to the unconventional buoy shape, but can also reliably maintain Wifi contact – despite the waves. If it wasn't for the somewhat high weight (180 g), the Fish Hunter would even be ahead of the Deeper (100 g) in our rating.
Lowrance Fish Hunter 3D – key features:
Transmitting power: 300 watts.
Transmitting frequencies: 381 kHz, 475 kHz and 675 kHz.
Transmitting crystal: Piezo-electric ceramic crystal.
Depth: Min. 0.4 m to max. 55 m.
Transducer type: 5 "tri-frequency" transducers.
Fish finder battery life: Up to 10 h or up to 500 h in standby.
Measurement units: Metric adjustable (via app).
Compatibility: iOS Apple & Android smartphones / tablets with GPS.
Weight: 180 g.
Dimension (length): 96.5 mm.
Functions (views): Directional Casting™, 3D Fishing, 3d Structure Mapping, Bathymetric Mapping, Ice Fishing Flasher.
The Lowrance Fish Hunter 3D is available for about 200€.

4.3 The non-plus-ultra: Deeper CHIRP+ – Smart Sonar with CHIRP, WIFI and GPS for iOS & Android
The non plus ultra of castable fishfinders. The only model with Chirp, WiFi and GPS offers all the sonar features that are technically possible and practical. Not only does Chirp give you an improved range of up to 100 m, it also minimises the surface interference – the quality of the images speaks for itself. Once you've seen the difference, you'll be more than happy to pay the extra price for this model.
Deeper CHIRP+ – Smart Sonar – key features:
Separation of objects with as little as 1 centimetre distance.
A clear and detailed display of the ground and fish.
Due to the Chirp function less surface noise and interference.
Display from as little as 15 cm and up to 100 m water depth.
3 transmitting cones with different frequencies (7°, 16° and 47°).
By the way: We are one of only six online shops recommended by Deeper!
4.4 Garmin Striker Cast GPS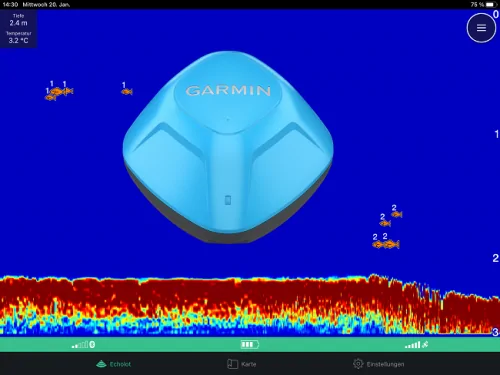 Let's start with the hardware. The Garmin Striker Cast is "by nature" completely waterproof. There are no hemispheres to be screwed together like with the Deeper, which have to be carefully aligned before doing so. If you don't do this properly with the Deeper, you have to expect water ingress. Not so with this Garmin fishfinder. However, care must be taken with the maintenance of the exposed ports. They must be dry and clean when charging.
Besides of that, the handling of the little blue ball is simple and comfortable,
and the weight of only 75g is pleasantly low.
The wireless range of 60m seems sufficient for normal throwing distances.
The depth already ends at around 45m, which is rather little. This "flaw" is mainly due to the higher frequencies used. Normally, however, more depth range is not absolutely necessary for the range of use of a castable fishfinder.
The GPS is sensitive and very accurate in its position information. We have already experienced much worse performance from the competition.
However, one must question the manufacturer's decision to use a wireless Bluetooth connection. Apart from the range, which is less than with WLAN, there is also a higher interference rate. In practice, this occasionally caused dropouts, i.e. gaps in the sonar images. On the whole the connection nevertheless was stable during our tests in the 30-metre range.
The sonar images have pleased us through and through. The level of information is high, the pictures are rich in contrast and structurally informative. To check the quality of the fish detection, we compared the Striker Cast to the Deeper Chirp. Wherever we suspected fish (inlet, ice edge), both devices also detected fish. The depth readings were comparable – and consequently consistent. However, the number of fin carriers indicated by the Deeper Chirp was larger. In a direct comparison of quantities, the Striker Cast displayed about 60% of the Deeper Chirp. For example, no fish close to the water surface (30cm) were detected on the Striker Cast as they were outside the minimum scanning depth (< 50cm) of the device.
We were also very satisfied with the mapping. As usual with Garmin, map creation with Quick Draw Contours runs very comfortably and smoothly. The map details are excellent for this tiny device. Possible hotspots are easy to identify. Catching spots can also be marked and called up again when needed later on. For one or the other body of water, there may also be ready-made maps from the Quick Draw community that could be useful on the Striker Cast.
Striker Cast vs Deeper: Our recommendation
The Garmin Striker Cast performs well in all the areas we evaluated. The fish finder functions and scan results are pleasing. The mapping option produces very decent results. The handling is comfortable and self-explanatory. The benefit that the angler can get from using the device is (as expected) high.
What we did not like that much was the Bluetooth connection. We would have preferred a more powerful Wi-Fi connection in this respect. There would also be nothing against providing the USB port with a cover to protect it from contamination.
In the price range up to €200, the Striker Cast GPS can definitely keep up with a Deeper Pro+. We even like it better in some areas of the sonar functions. This also applies to the GPS feature (e.g. accuracy).
However, the Striker Cast does not come close to the capabilities of a Deeper Chirp. That could still be the case, though, if Garmin were to venture a Striker Cast Chirp version (including WiFi). Until then, the Garmin Striker Cast is a noteworthy alternative to the Deeper family, but we will remain loyal to the latter (at least with the current state of affairs).
Here you can find our extensive Garmin Striker Cast test-review.
---
And that brings us to the end of our detailed fish finder review for the year 2022. We hope we were able to help you with your purchase decision and would be pleased to receive a comment and/or a rating. If you want a better understanding of fish finders and how a fish sonar does work, have a look at our other fish finder tips. Have fun on your next angling trip and "Petri Heil" – Jens and Martin.