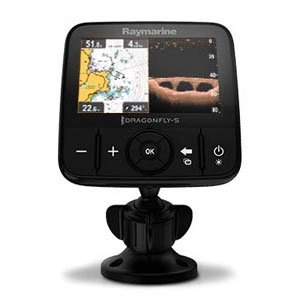 Raymarine's Dragonfly 5 and 7 Pro fish finder and your smartphone: The Wi-Fish app
With their latest versions of the Dragonfly 5 Pro and Dragonfly 7 Pro, Raymarine has decided to follow a new path: it is now possible to use your smartphone or tablet as an external depth finder display.
Just on the basis of cost, this is a huge benefit – the display is one of the most expensive components for any given fish finder. We also conducted some practical testing to find out how dual CHIRP sonar works, and what it can actually do in real-world settings.
On account of their dual-channel CHIRP sonar and super bright screens, Raymarine Dragonfly Pro fish finders are among the best fish finders in the $400 price segment.
Using the Raymarine Dragonfly 5 Pro and 7 Pro
A quick note: we've tested a lot of different fish finders in real-world settings this year, and we have to admit that the Dragonfly 5 Pro was our favorite.
It's easy to use and simple to install. The display is easily the brightest of any that we've tested this year in terms of on-board depth finders.
In comparison to the Lowrance fish finder models that we tested previously, the Dragonfly's fish arch imaging really impressed us.
While the Lowrance Elite models display relatively few, small fish arches on-screen, the Dragonfly 5 Pro delivered large, distinct fish arches – even at spots where the Lowrance Elite came up with nothing at all.
The display on the Dragonfly Pro depth finders is unbelievably bright – it has a brightness rating of 1,500 nit. Crazy!
Here's a quick comparison: a traditional, mid-range computer monitor has a brightness rating of around 300 nit – the display on the Raymarine fish finders is 5 times as bright.
Why is that important? Simply put, when you're out on the water and fishing in favorable weather, direct sunlight falling on your fish finder display can make it all but unusable – you can't see a damn thing.
With the Raymarine Dragonfly depth finders, this problem is history!
We were thoroughly impressed with the Raymarine Dragonfly 7 Pro and its little brother, the Raymarine Dragonfly 5 Pro.
As with Lowrance's offerings, we like the variety of available views: just press left or right on depth finder's control pad to select different display modes, including
map,
traditional sonar,
DownVision,
DownVision and sonar (split-screen),
map and sonar (split-screen),
or map and DownVision (split-screen).
Settings one-of-a-kind: Raymarine CHIRP and sonar.
Dragonfly 5 Pro

Dragonfly 7 Pro

Screen Size

5 in

7 in

Screen resolution (pixels)

800 x 480

800 x 480

Sonar

CHIRP Sonar

CHIRP Down Vision

Depth Range

183m (600ft) CHIRP DownVision™ and CHIRP Sonar models 275m (900ft)

Waterproofing

IPX7

GPS

GPS Channels

72 GPS

Waypoints

3000

Chart Compatibility

LightHouse vector and raster charts | Navionics Gold, Plus, Hotmaps and SonarChart | C-MAP by Jeppesen

SD card

Mirco SD

App

iOS, Android
One-of-a-kind: Raymarine CHIRP and sonar
The Raymarine Dragonfly is one of the few depth finders that utilizes dual-channel CHIRP sonar, which means that it offers even more detail than conventional CHIRP fish finders.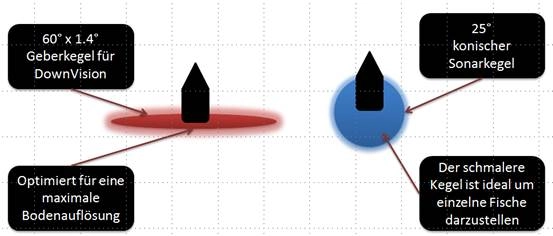 Traditional CHIRP depth finder operates with a bandwidth often around 200 kHz frequency.
The sonar beam is conical. As with all depth finder manufacturers – and on account of inter-manufacturer competition – the other frequency ranges in which CHIRP sonar transmits are often a trade secret.
At 25°, the transduction angle of the Raymarine Dragonfly 5 and 7 Pro is calibrated for scanning fish. At a depth of 33 ft (10 m), the fish finder scans an area with a diameter of 14.1 ft( 4.3 m).
At a depth of 66 ft (20 m), the cone in which fish are scanned is 28.5 ft (8.7 m) across.
At the far end of the scale, the 200 kHz CHIRP transducer can manage scans at depths of up to 920 ft (280 m) in optimal water conditions (clear freshwater).
The special thing about the DownVision sonar is the transducer's extra-wide exit angle, which Raymarine uses to give you particularly wide coverage when it comes to bathymetry or find underwater structures.
The DownVision sonar transducer transmits 60° fan-shaped fields at a frequency of 350 kHz (centralized) in both port and starboard directions.
In this way, bathymetry can be scanned and displayed at a width of 38 ft (11.5 m) in 33-ft- (10-m-) deep waters.
At a depth of 66 ft (20 m), the scanned area has a diameter of (believe it or not) around 75.5 ft (23 m).
DownVision reaches down to an astounding depth of 180 m. Most other depth finders peter out at a depth of around just 300 ft (90 m)!
The DownVision CHIRP sonar transducer also transmits forward/longitudinally at an angle of 1.4° in order to provide maximum bottom resolution.
How to set up the Wi-Fi connection
If you're using a tablet, you can save some money by going with the Raymarine Dragonfly 5 Pro – the 5-inch depth finder can easily display its information on your tablet's larger screen.
Don't forget to pick up a waterproof case for your smartphone/tablet if you don't have some other way to shelter it onboard.
Additionally, every angler on your boat can log in to the unit with their smartphone.
All you have to do is download Raymarine's Wi-Fish app for iOS (version 7 and up) or Android (version 4 and up).
With this functionality, Raymarine has finally solved the problem of everyone else on board bugging you with the question, "See any fish yet?"
Now everyone can look at their own display and figure things out for themselves.
The Raymarine fish finder transmits a Wi-Fi signal. Connect to the Dragonfly 5 Pro/7 Pro using the Wi-Fi settings on your smartphone/tablet.
You'll find the login information in the depth finder's menu settings under "Functions and Settings" > "Wi-Fi Settings". You can also change the password.
Now, launch the Wi-Fish app on your smartphone/tablet.
You can find the default login information on the underside of your depth finder. (SSID and password)
How complicated is the initial setup of the menu options?
Not at all. When you first start up the fish finder, you'll be asked which body of water you usually fish on. The rest is easy – a tutorial will guide you through the available features.
The depth finder sets itself up in automatic mode – while fishing, we never had the feeling that we needed to adjust the settings.
Naturally, over the course of further testing, we started to try out custom settings of the individual features.
We adjusted sensitivity settings like interference filtering, contrast and amplification – in the end, none of our changes produced better results than automatic mode.
We had to make frequent adjustments to the background display for conventional CHIRP sonar on the Dragonfly 5 Pro and Dragonfly 7 Pro. Depending on depth and external light sources, we found ourselves switching between a white background (blue/red fish arches) and a blue background (light blue/yellow/white fish arches). We left the DownVision display on its copper setting.
In the display options, we set the target-depth ID to "On" in order to get a general idea of the depth of the displayed fish arches. In our view, it makes a lot of sense to know the depth of a given target or feeder fish.
We left the scroll speed at 100%. However, you have the option of setting this value all the way down to 10% if you want to get more detailed images or bathymetry.
If you know what you're fishing for, you can change the zoom settings. Walleye, for example, stick pretty close to the bottom – you can focus on that specific depth by zooming in or out with the "+" and "-" buttons. With the "up" and "down" buttons, you can move the zoomed area around the water column.
Another tip:
A thin floor line on your depth finder display means that you're dealing with a hard bottom. This is because the soundwaves can't penetrate very deeply and are prematurely reflected upward.
A thick floor line indicates a muddy or heavily vegetated bottom. If the bottom is soft, the depth finder's signal can penetrate more deeply before the individual frequencies begin their respective returns to the surface.
Map options on the Raymarine fish finders
Raymarine fish finders work best in conjunction with the chartplotters and fishing maps offered by Navionics – these so-called SonarCharts display highly-detailed representations of each depth zone.
What's more, Navionics doesn't expect you to get by with obsolete map data – as of 2015, Navionics SonarCharts support on-the-fly updates via realtime depth information from the Raymarine Dragonfly 5 Pro and 7 Pro.
The Navionics SonarCharts function can instantly transfer up-to-date depth contours to your smartphone via Wi-Fi. It's a great way to identify and head for drop-offs and other hotspots.
"Deep water" is another nice setting in the map menu – you can define the depth at which you want to fish. Simply go to "Map Settings">"Deep Water", turn the option on, and set the minimum deep water value. Desirable fishing spots at the indicated depth(s) will then appear as white areas on the map, in clear contrast with the normal blue of the rest of the map.
The following features can also be adjusted in the map settings menu: map text, map borders, light sectors, routing system, danger zones, bottom details, land details, panorama photos and streets, colored bottom zones, and depth contours.
Other map providers for Raymarine depth finders include LightHouse maps and Jeppesen's C-MAP.
You can save and import/export waypoints and tracks (3,000 waypoints and 15 tracks). Raymarine offers more than 86 different waypoint icons which you can use to do everything from mark specific dangers to simply manage navigation. We saved several hotspots as waypoints in order to hit our favorites on the next excursion.
Technical details
Bandwidth around 200 kHz conventional CHIRP sonar.
Bandwidth around 350 kHz CHIRP DownVision sonar (extra-wide coverage).
Dual-beam sonar.
Resolution: Widescreen 800 x 480 pixel, 5-inch / 7-in display.
Wi-Fi streaming.
IPX6 and IPX7 waterproofing.
Ball-joint mount.
MicroSD memory card.
Summary: On account of their feature set, the two newest Raymarine Dragonfly 5 Pro and Raymarine Dragonfly 7 Pro fish finders can no longer be excluded from any credible top 10 list.
Especially in the €500 price segment, they represent the final word in fish finder tech.
In our opinion, they're a clear best buy – we have essentially no critiques to offer. On the contrary, we're completely sold on their performance – even in automatic mode!
This brings us to the end of our Dragonfly 5 Pro and Dragonfly 7 Pro test. If you are still unsure about which fish sonar to buy, you can have a look at the other fish finder reviews in our extensive fish sonar test (including the newest fish finder models of all important manufacturers like Garmin, Humminbird, Lowrance or Raymarine) or write us a short message. Have fun on your next angling trip and "Petri Heil" – Jens and Martin.